Appreciate our quality journalism? Please donate here.
DONATE
EXCLUSIVE
The top public official responsible for penalising medical practitioners who rip-off Medicare was paid for two Federal Government jobs for her entire five-and-a-half-year tenure.
The Klaxon can exclusively reveal Professor Julie Quinlivan, the long-time head of the Federal Government's Professional Services Review agency, was also paid as a member of the Administrative Appeals Tribunal.
Quinlivan has been employed as a "part-time member" of the Federal Government's Administrative Appeals Tribunal (AAT) - in a position paying tens of thousands of dollars a year - since July 2015.
She was also employed as the full-time "director" of the Professional Services Review (PSR) agency from February 2017 until six weeks ago, when she quietly departed, seven months before her contract was due to expire.
The director of the PSR is responsible for reviewing allegations of "inappropriate practice" against Medicare by medical practitioners - including double-billing - and is paid almost $400,000 a year.
The payments to Quinlivan while she held both the AAT and PSR positions totalled over $2 million.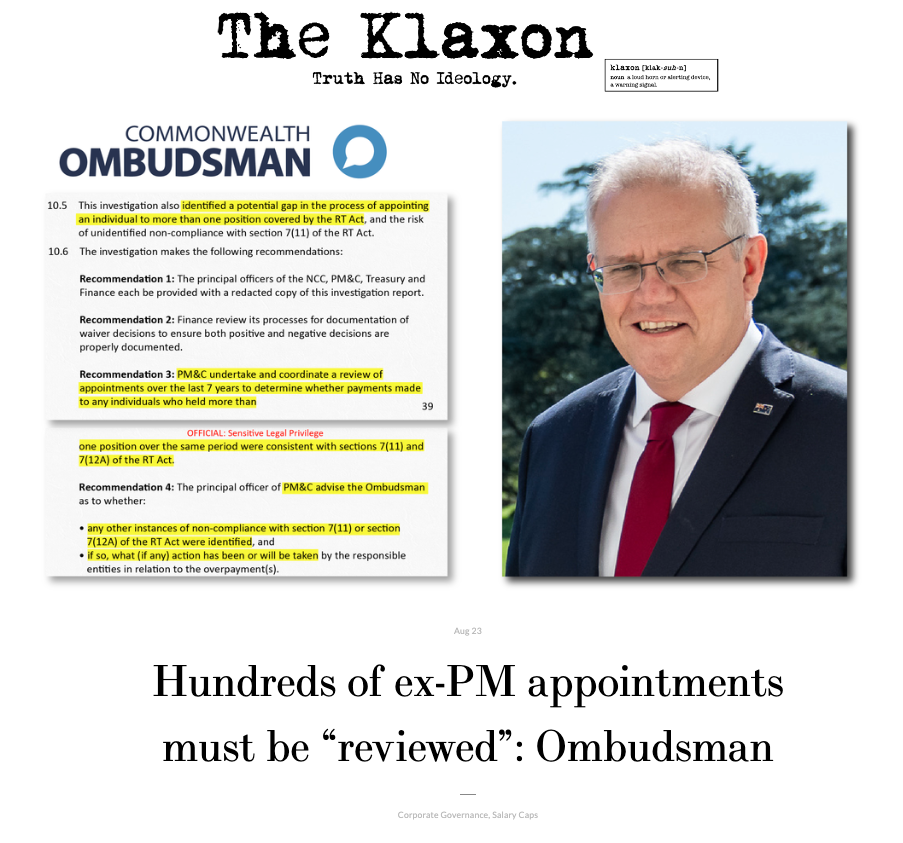 The Klaxon's expose Tuesday. Source: The Klaxon
Under Section 7(11) of the Remuneration Tribunal Act it is illegal for a full-time Federal Government employee to also be paid for another Federal Government job.
Both Quinlivan's PSR and AAT positions are governed by the Remuneration Tribunal Act and the Remuneration Tribunal sets the pay rates for both positions.
Quinlivan did not respond to requests for comment.
As exclusively revealed by The Klaxon, the Commonwealth Ombudsman in December officially called on Scott Morrisson's Department of Prime Minister & Cabinet (PM&C) to conduct a comprehensive review of Federal staffers over concerns of illegal multiple appointments.
That was sparked by a year-long secret Ombudsman investigation into senior public servant Chris Jose, who was illegally paid for two Federal roles.
As previously revealed, Jose was illegally paid in a full-time role as a chief of media regulator the Australian Communications and Media Authority as well as for a part-time role as a boss of the National Competition Council.
The Ombudsman's central concern is that more Federal Government employees have been, or are being, illegally paid for more than one Federal Government role.
The "director" of the PSR is a "statutory appointment" that reports directly to - and is appointed by - the Federal Health Minister.
Quinlivan was appointed to a three-year term as PSR director starting on February 13, 2017.
She was appointed to a second three-year term on May 15 2020, PSR's 2019-20 annual report states.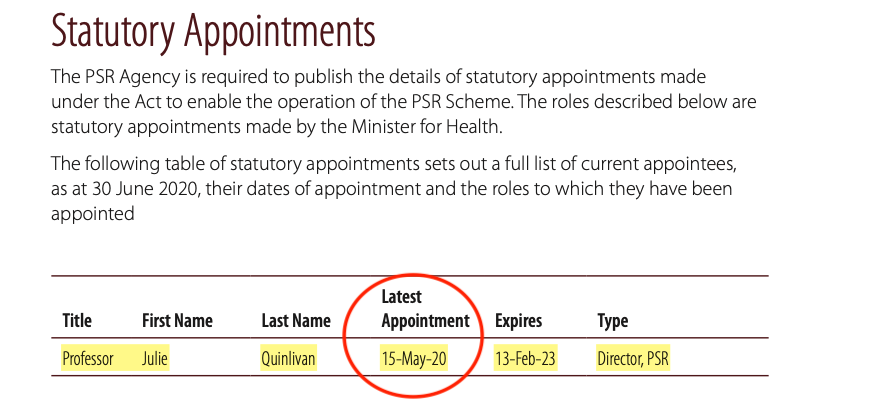 Professional Services Review 2019-20 Annual Report. Source: PSR
At that time, both then Federal Health Minister Greg Hunt and then Prime Minister Scott Morrison were responsible for Health.
That's because Morrison, the day before, on March 14, secretly appointed himself a co-minister for the Health.
Last month it emerged Morrison had secretly sworn himself in to five ministries between March 14 2020 and May 6 2021 - including Health, Treasury and Finance.
PSR documents show Quinlivan quietly departed as head of the PSR in July, despite her contract being due to expire on February 13 2023.
The PSR is legally required to publish details regarding its "statutory appointments", being appointments made by the Federal Health Minister.
PSR filings show that on June 16 this year, Dr Antonio Di Dio was appointed "Acting Director, PSR", for a three-month period.
A month after his appointment, on 15 July this year, Quinlivan's "appointment" as PSR director ended, the document shows.
The PSR agency, which receives taxpayer funding of over $10m a year, has issued no public statement regarding Quinlivan's premature departure.
Quinlivan's extensive LinkedIn profile does not currently make any mention of her five-and-a-half year tenure as the head of the PSR.
The PSR director is responsible for investigating cases raised by "the delegate of the Chief Executive of Medicare" regarding "inappropriate practice", such as billing Medicare multiple times for the same consultation or performing unnecessary procedures.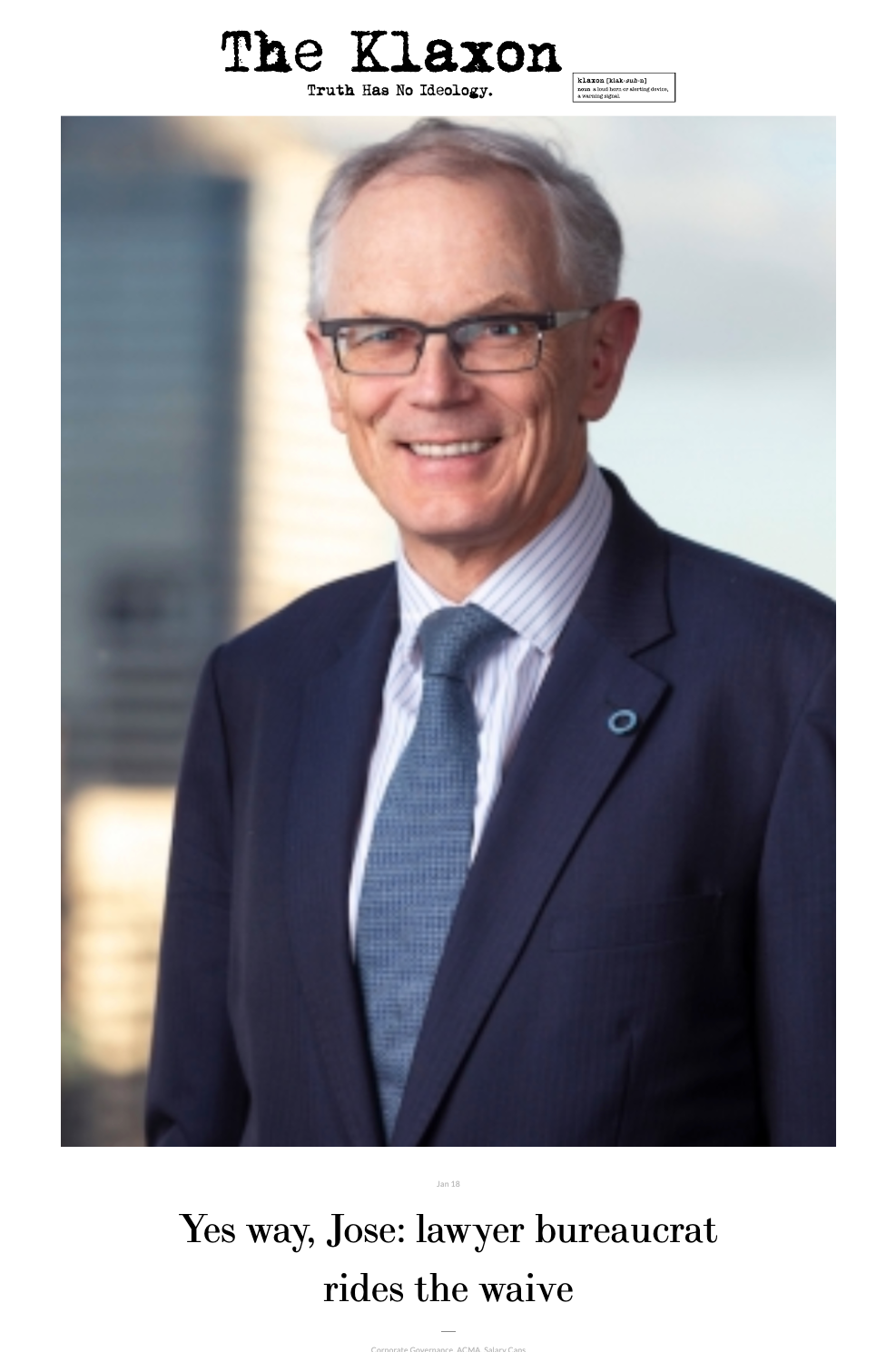 The Klaxon's expose. Source: The Klaxon
PSR filings show that in the month of May alone, Quinlivan as PSR director was responsible for personally "reprimanding" five medical professionals, including a radiologist, a general practitioner and a maxillofacial surgeon, who, in seperate cases, agreed to repay a collective $1.31m for inappropriate practice, including over-billing taxpayers.
Administrative Appeals Tribunal (AAT) annual reports show Quinlivan has been an AAT member in the "General and Child Support and Social Security Divisions" since 2017.
The AAT confirmed Quinlivan was currently employed as a "part-time member".
Justice Fiona Meagher was appointed AAT President, the head of the AAT, on April 1 this year.
Justice Meagher did not respond to a series of questions, including how much in total the AAT had paid to Quinlivan while Quinlivan was also employed by the PSR, and whether the AAT had attempted to recover any of that money.
The AAT had paid Quinlivan $24,838 in the 2018-19 financial year, $31,175 in 2019-2020 and $34,292 in 2020-21, said AAT Senior Communications Officer Theepa Puvanachandran, citing "publicly available information".
The AAT refused to say how much it had paid Quinlivan in the 2017-18 and 2021-22 financial years, or to provide any further information.
Instead The Klaxon was told to lodge requests under Freedom of Information laws.
Seeking access to information under Freedom of Information is a costly and time-consuming process and is intended to be used as a last-resort, when government and publicly-funded agencies refuse to provide information.
Based on the three years of disclosed payments above, totalling $90,305, Quinlivan was likely paid around $150,000 by the AAT over the five-and-a-half years that she was also the head of the PSA.
The Commonwealth Ombudsman calls on PM&C for a review of all appointments over the past seven years. Source: Supplied
Serious concerns have been raised regarding political appointments, particularly by the Morrison Government in the lead up to the May election.
The AAT has been one of those agencies called out.
A recent report from the Grattan Institute found that almost a quarter of the political appointees at the AAT had failed to meet their performance targets.
According to her LinkedIn profile, Quinlivan is also currently chair of the Clinical Senate of the Health Department of Western Australia, a position she has held since June 2015.
"The Clinical Senate is an independent body and comprises more than 80 members drawn from diverse clinical backgrounds, professional skill-sets, and from both metropolitan and rural areas of the state," its website states.
More to come…
WE HAVE A FAVOUR TO ASK: We receive zero government funding and are entirely funded by our readers. Investigations such as this take an enormous amount of time and effort. Our financial position is currently extremely tight. If you appreciated this article, and our high-quality investigative journalism, please donate here to help keep us afloat. Thank you very much for your support.
Anthony Klan,
Editor The Klaxon
Do you know more? anthonyklan@protonmail.com
Media inquiries or syndication requests most welcome: +61403873899
Welcome
Editor, Anthony Klan
Australian journalism is under threat like never before. So too is the ability for us, the public, to make informed decisions. A disintegrating media is serving to further concentrate the already vast, unhealthy, power held by a few. That power is routinely abused, its attendant responsibilities wilfully ignored, and our democracy weakened.
Your support ensures truthful, unbiased and unflinching reporting is accessible to everyone. The media landscape is riddled with vested interests: the more they win the more we all lose. On every level.
Help us speak truth to power, break the big and important stories, and to build a truth firewall against which those in public discourse can be held. If you can afford it, please subscribe, for as little as $5 a month. Together we will make a difference.
Thank you for being here.
Anthony Klan
Editor, The Klaxon