EXCLUSIVE
The boss of the nation's monopoly infrastructure regulator - who engaged in serious illegality that the Federal Government went to substantial lengths to cover-up - helped dismantle accountability laws in favour of owners of major fossil fuels infrastructure.
National Competition Council President Julie-Anne Schafer, who was found by the Commonwealth Ombudsman to have broken the law by providing over $40,000 in illegal payments to a fellow NCC boss, helped remove national anti-monopoly laws while knowingly under investigation, it can be revealed.
The biggest beneficiary to date has been the Chinese Government, which owns 50-percent of the Port of Newcastle, the world's biggest coal port.
At the time Schafer helped push to remove the laws - including banning the independent Australian Competition Tribunal from arbitrating government decisions - both Schafer and the Federal Government knew Schafer was under investigation by the Ombudsman.
Julie-Anne Schafer broke Federal laws, engaged in "defective administration"…then helped Government dismantle fossil fuel laws.
The National Competition Council (NCC) adjudicates whether third-parites can gain access to "nationally signifcant" monopoly assets, such as ports, airports and gas-piplines.
Under the National Gas Law, it also decides whether gas pipelines are subject to "light or full regulation" and making recommendations "in relation to various exemptions for greenfield gas pipelines".
As revealed by The Klaxon in January, NCC President Schafer, a lawyer, made 53 illegal payments, totalling $41,073, to fellow NCC executive Chris Jose over the two years to April 2020.
Schaffer and Jose, both career lawyers, were two of the NCC's three "commissioners".
The NCC is overseen by Federal Treasurer Josh Frydenberg and Schafer reports directly to him.
The Commonwealth Ombudsman launched an investigation into Schafer and the Jose payments in January last year.
Schafer, the NCC and the Federal Government had been aware of the illigality of the Jose payments since mid-2020, after a whistleblower alerted them to it.
Despite this, no approriate action was taken, which led to the Ombudsman's investigation.
It ran from January 25 to December 3 last year.
It found Schafer had broken laws of both the Remuneration Tribunal Act and the Pubilc Governnance, Performance and Accountability Act (PGPA Act) having "failed to exercise due care and diligence" as required by law.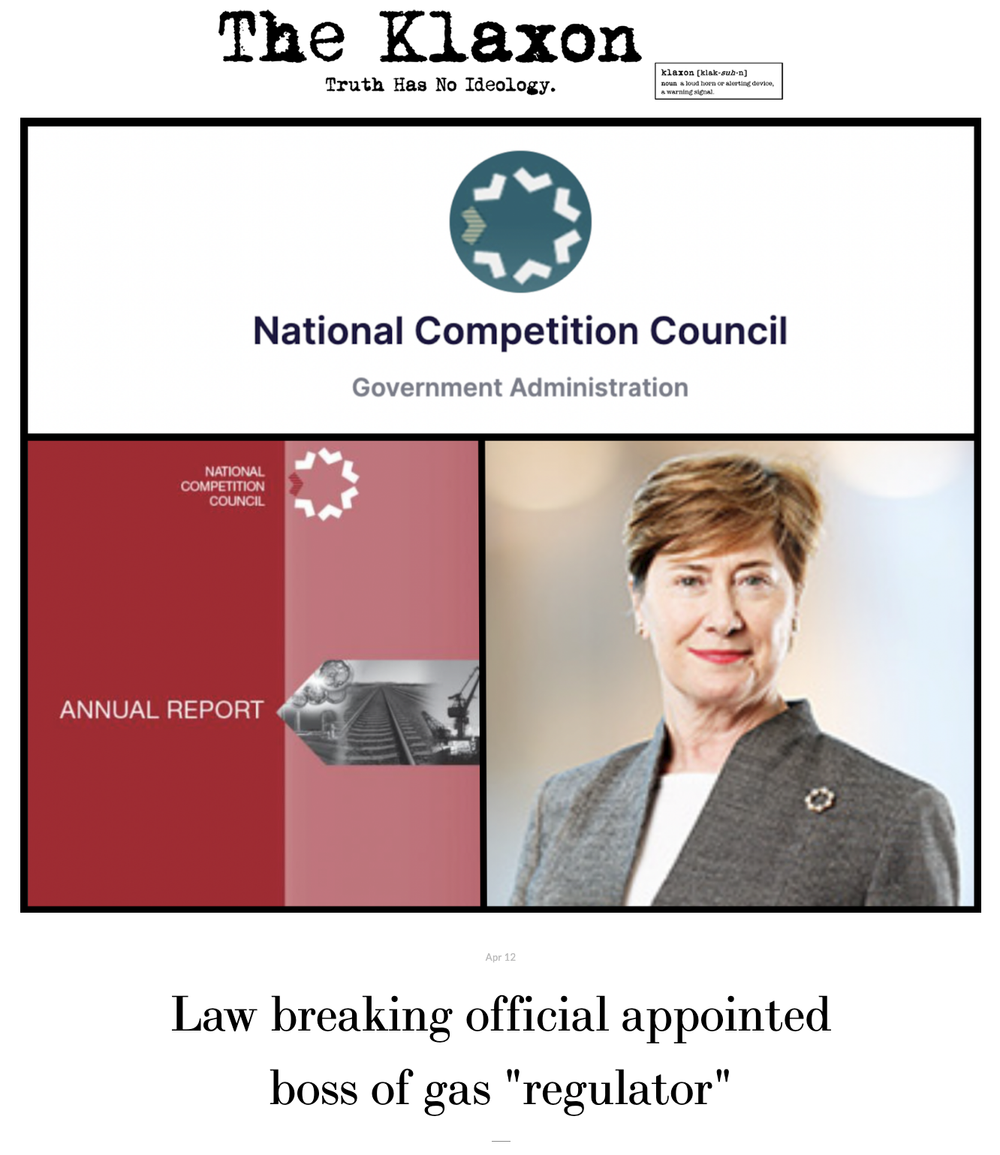 The Klaxon's revelations on Tuesday. Source: The Klaxon
In April last year, three months after the Ombudsman investigation was launched, Schaffer successfully pushed for the removal of Australian Competition Tribunal (ACT) oversight of government decisions regarding third-party access to monopoly infrastructure.
The following month, in May last year, the Federal Coalition announced legislative changes to substantially reduced the powers of the NCC itself, including its ability to provide "expert independent advice" under national gas laws, in favour of major fossil gas pipeline operators.
Schafer waived them through.
Schafer and Frydenberg have repeatedly refused to comment.
The Ombudsman report had been kept from the public, until The Klaxon obtained a copy and broke the story in January.
Finalised on December 3, the secret Ombudsman report revealed that Federal Government had gone - inexplicably - to great lengths to protect Schaffer and Jose, despite the $40,000 payments being clearly illegal under Remuneration Tribunal law.
The Ombudsman report revealed that instead of simply having Jose repay the $41,073 (in the way government debts, such as those to the tax office or Centrelink are usually recovered), those top-levels of government went out of their way over many months - and at considerable cost - to prevent Jose having to repay the money.
It revealed that the Department of Prime Minister and Cabinet; the Department of Treasury and the Department of Finance all worked together in a complex arrangement in order to waive the debt.
The matter was passed through at least five Federal Government departments and agencies before - against senior departmental advice - the Department of Finance wiped the $41,073 Jose debt entirely.
The latest revelations are particularly damning for Frydenberg, the member for Melbourne's Kooyong electorate, who is down in the polls. (Continues below).
Editor's Note: Help us deliver this important story and many others to the residents of Kooyong and elsewhere in our upcoming physical edition of The Klaxon. Please donate here to help in our democracy project. We are extremely close to our target!
Jose is a key boss at media regulator the Australian Communications and Media Authority (ACMA), appointed to the role as a full-time executive in May 2018 by the Federal Coalition.
Jose was appointed as an NCC Commissioner, in a part-time role, in December 2017 by then Treasurer Scott Morrison.
The $41,073 payments from the NCC, authorised by Schaffer as NCC President, were illegal because under Remuneration Tribunal laws, a full-time Federal Government employee cannot also be simultaneoulsy paid for a second Federal Government role.
Schafer left the NCC in December last year when her three-year term expired.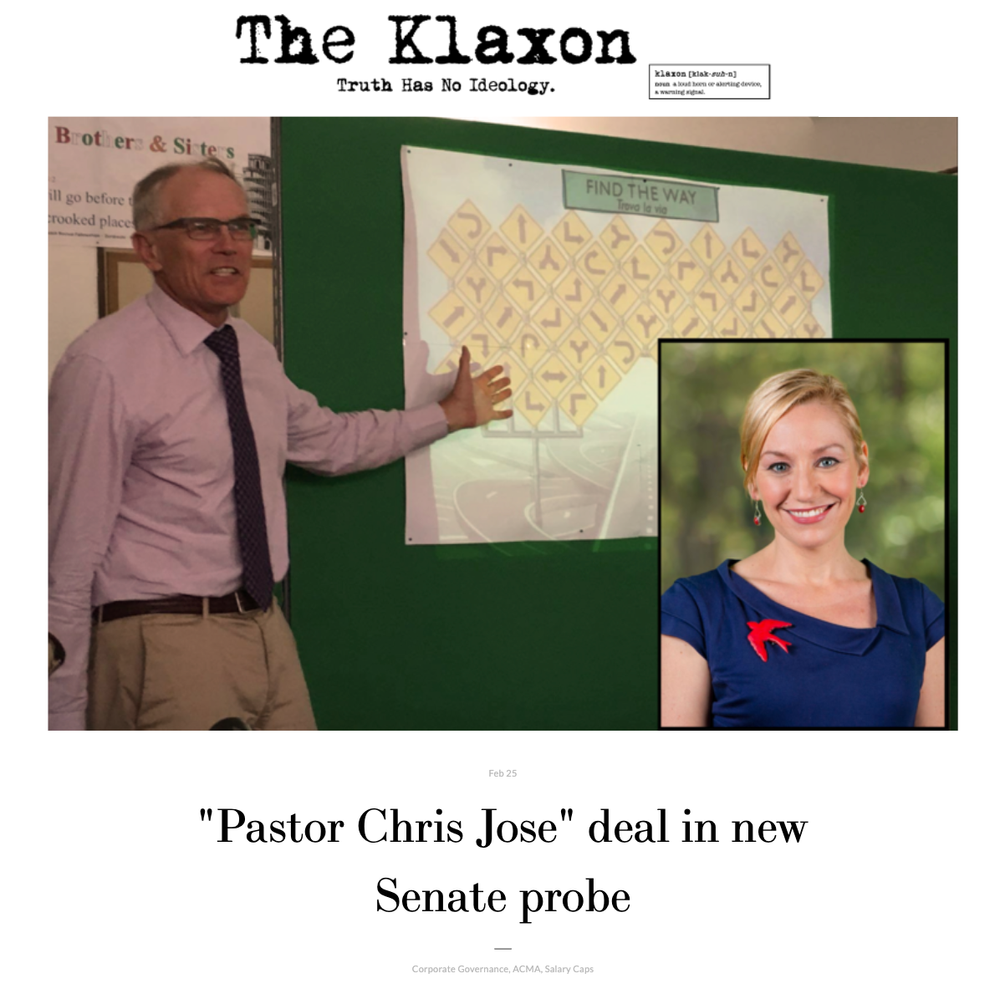 The Ombudsman report was finalised on December 3 last year.
It shows laws were broken, policies were disregarded and expert departmental advice was ignored.
The Ombudsman report found Schafer breached section 7(11) of the Remuneration Tribunal Act and section 25 of the public governance PGPA Act, having "failed to exercise due care and diligence" as required by law, and said Schaffer had engaged in "defective administration".
Despite this - and for reasons not explained by him - Frydenberg in March this year again appointed Schaffer as NCC President, for a period of three-years.
In the three weeks before the election was called the Coalition has made almost 140 appointments or reappointments to Commonwealth bodies.
ALP leader Anthony Albanese has accused the Coalition of stacking key public positions with former Liberal politicians and staffers.
The Ombudsman report outlining Schaffer's illegal actions is below.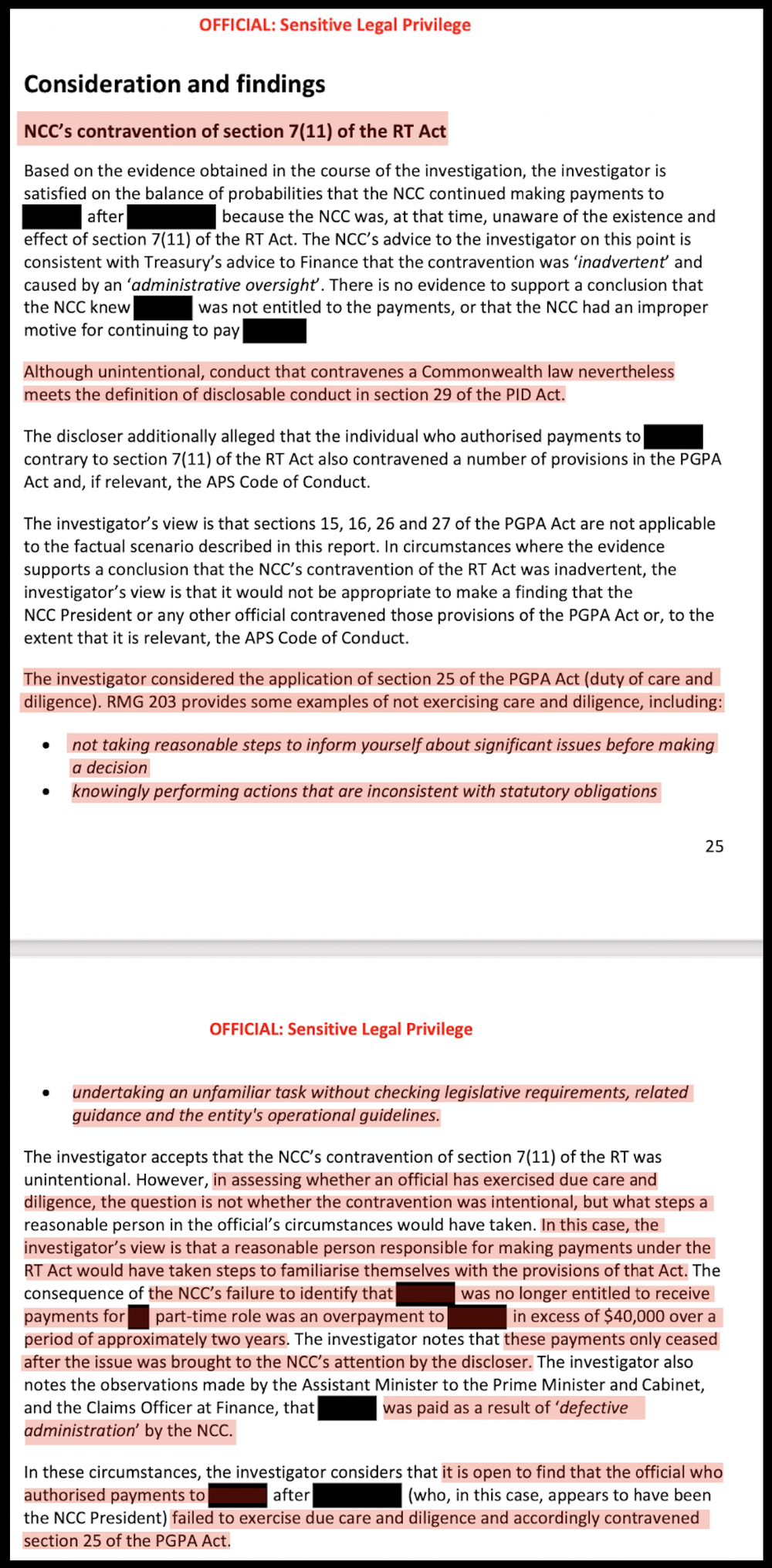 Findings against Schaffer in secret Commonwealth Ombudsman report.
China
The attacks on the long-standing laws around access to monopoly infrastructure by Schaffer and the Federal Government closely track attempts by a group of "third-party" users to access the Port of Newcastle.
The Port of Newcastle is the world's biggest coal terminal and is 50 per cent owned by the Chinese Government through China Merchants Port Holdings Company, and 50 per cent by an investment arm of Macquarie Group called "The Infrastructure Fund" (or TIF).
China Merchants Port Holdings Company (or CMPort) is a Chinese Government "state-owned enterprise".
Macquarie's $2.4 billion-plus TIF is an investment vehicle in which many thousands of different investors have stakes, meaning that the Chinese Government's CMPort is overwhelming the biggest single owner of the Port of Newcastle.
It also means the Chinese Government is by far the single biggest beneficiary of legislative changes benefiting Port of Newcastle's operations and profitability.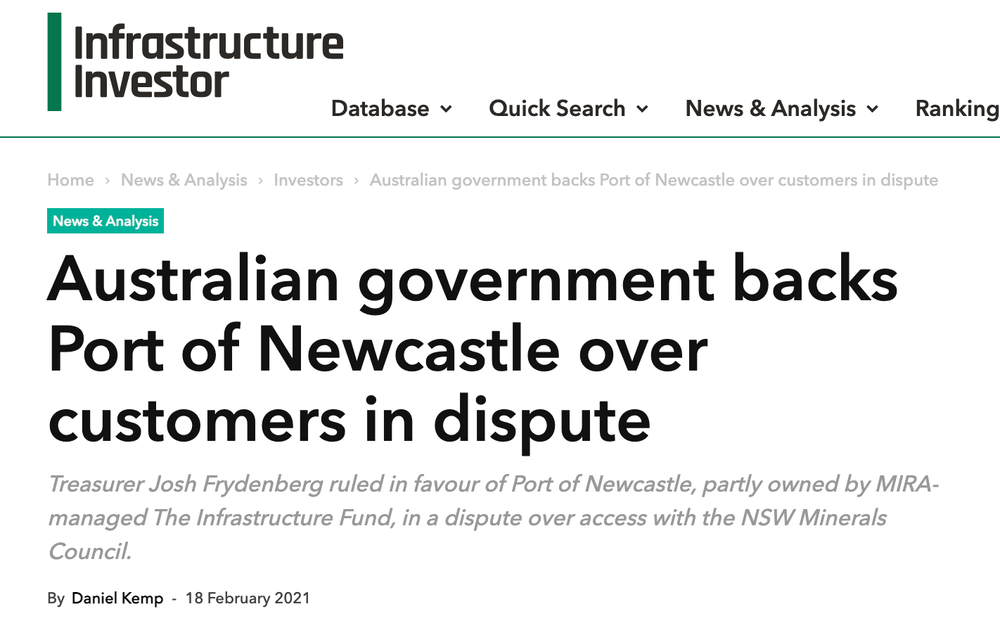 Frydenberg rules in favour of China and Macquarie's Port of Newcastle. Source: Infrastructure Investor
The NCC was created 1995 by the Council of Australian Governments (COAG) and exists to promote the "efficient operation of, use of and investment in monopoly infrastructure".
It is there to prevent gouging by operators of monopoly infrastructure by providing third-parties an avenue to gain "access to the services of infrastructure facilities on appropriate terms", through the "declaration of services". (Continues below)
In order to gain access to a service on "appropriate terms" third-parties apply to the NCC under the "National Access Regime".
The NCC then makes a recommendation to the Federal Treasurer who then decides whether to "declare" the service.
If it is "declared" then the owner of the monopoly infrastructure and the third-party, are required to reach a commercial agreement for access.
(If this fails they can take the matter to the Australian Competition and Consumer Commission (ACCC) for arbitration and the ACCC can set the price.)
If the Federal Treasurer refused to "declare" the service, third-parties could take the matter to independent Australian Competition Tribunal (ACT) for review. (Continues bellow)
The NSW Minerals Council is an industry body representing NSW's minerals and mining industry.
In July 2020, representing ten NSW coal mining members, it approached the NCC, arguing the China and Macquarie's Newcastle port was preventing use due to "unreasonable terms and conditions".
The previous year, in September 2019, an existing Federal Government "declaration" allowing them access to the port had been overturned.
In December 2020 the NCC recommended to Treasurer Frydenberg that the "declaration" not be granted.
On February 16, 2021 Frydenberg announced the declaration would not be granted.
In March 2021 the NSW Minerals Council approach the Australian Competition Tribunal for a review of Frydenberg's decision.
On March 19, 2021, Treasury (which is overseen by Frydenberg) launched whirlwind "consultation" into the entire process, which it said was to "streamline and add greater certainty to decisions made under the National Access Regime".
It would examine "whether the length of time that processes under the National Access Regime can take is appropriate", "the scope of parties to lodge repeated applications for declaration" and "whether arbitration proceedings and determinations should cease if declaration is revoked".
"Interested parties" were given four weeks to respond, until April 19, 2021.
Schaffer and the NCC put in a submission.
"Historically, where there have been extended delays in decision making…such as in relation to services at the Port of Newcastle, this has been largely driven by the length of time associated with Tribunal and court appeals of Ministerial decisions," Schaffer wrote.
"The council therefore supports removing the ability of parties to seek merits review by the Tribunal of a designated Minister's decision on a declaration matter."
Within weeks Frydenberg announced the Tribunal protection mechanism would be removed.
""Within weeks Frydenberg announced the Tribunal protection mechanism would be removed""
"Following this consultation process, and consistent with the views of the Council, in May 2021 the Government announced it would implement reforms to the NAR including removing merits review by the Tribunal of a declaration," Schaffer wrote in the NCC's 2020-21 annual report.
The "reforms" would also "limit new applications for declaration" of infrastructure "where the infrastructure has been the subject of previous declaration or revocation process".
In other words, the avenue to appeal access decisions was removed and many new applications would be stymied.
Timeline
- March 2020: Whistleblower alerts NCC's Shafer and government to illegality of Jose payments
- July 2020, Third-parties approach NCC seeking port access, citing "unreasonable terms"
- Jan 25, 2021: Ombudsman begins formal investigation into Schafer's Jose payments
- Feb 16, 2021: Frydenberg announces port access "declaration" would not be granted
- Mar 2021: Third parties approach Tribunal for a review of Frydenberg decision
- Mar 19, 2021: Treasury launches four-week "consultation" to "streamline" declaration process
- Apr 2020: Schafer writes submission calling for appeals to Tribunal be axed
- May 2021: Coalition announces appeals to Tribunal will be axed
- May 2021: Coalition announces weakening of gas regulations. Endorsed by Schafer, despite NCC's previous longstanding objections
- Dec 2021: Schafer's three-year term as NCC President ends
- Dec 3, 2021: Commonwealth Ombudsman finds Schaffer broke serious federal laws
- Jan 18, 2022: The Klaxon reveals the scandal after obtaining Ombudsman report
- Mar 4, 2022: Treasurer Frydenberg appoints Schaffer as NCC President for three-year term
In February 2021, in defence of his refusal to give a "determination" for access to the China and Macquarie-owned Port of Newcastle, Frydenberg said "reputation effects" could stop the port from overcharging.
"Given the importance to the Port of Newcastle of coal mining revenue, and its long lease…(Port of Newcastle) is likely to be mindful of reputation effects caused by its pricing," Frydenberg said.
NSW Minerals Council chief executive Stephen Galilee said Frydenberg's decision was "disappointing".
"However the outcome is not surprising given the weakness of the current regulatory framework relating to monopoly infrastructure providers in Australia," Galilee said.
"This decision further highlights the need for reform too address the ability of the monopoly provider of such a critical piece of national infrastructure to operate without any effective regulatory oversight relating to how it treats its users and consumers," he said.
Reform was introduced, within weeks, but it went the other way, further weakening the laws in favour of major infrastructure owners.
In the February 2021 statement Galilee said concerns were magnified because the Port of Newcastle was seeking to expand.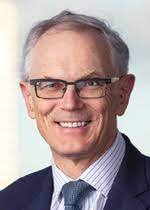 ACMA boss Chris Jose
"These concerns are further heightened by the desire of the Port of Newcastle to significantly expand its container terminal operations with associated pricing and access risks for existing and future Port users without appropriate regulatory oversight in place," Galilee said.
In May last year the Federal Government also announced a "package of reforms" in relation to gas pipeline regulation.
"In addition to the NAR reforms…in May 2021 Energy Ministers released…an agreed package of reforms in relation to gas pipeline regulation," Schaffer wrote in the 2020-21 annual report.
"While the Council has previously advocated for the retention of existing governance arrangements and advised against regulators determining the service they regulate, under the agreed new arrangements, the Council's role in providing independent expert advice under the NGL (National Gas Law) will be removed.
"Given the infrequent nature of applications made to the Council under its NGL functions, the Council expects minimal impact to its operations as a result of these changes," she writes.
Schaffer continues:
"I would like to thank Mr Chris Jose, who completed his term in December 2020, for his valuable contribution over the past three years."
Editor's Note: Help us deliver this important story and many others to the residents of Kooyong and elsewhere in our upcoming physical edition. of The Klaxon. Please donate here to help in our democracy project. We are extremely close to our target! Thank you!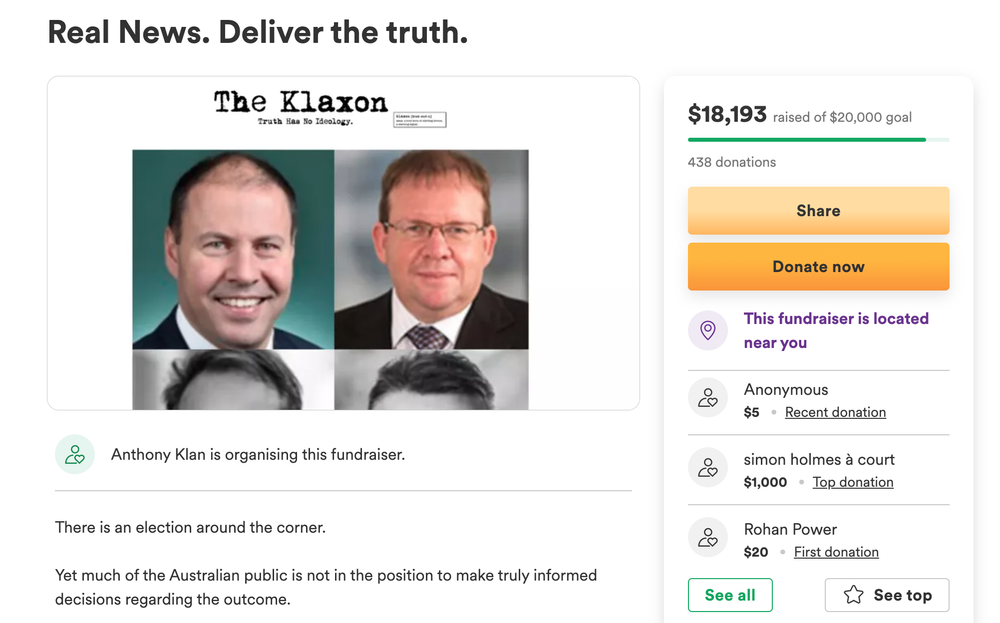 Do you know more? anthonyklan@protonmail.com
Media inquiries or syndication requests most welcome: +61403873899
Appreciate our quality journalism? Please subscribe, from as little as $5 a month
Welcome
Editor, Anthony Klan
Australian journalism is under threat like never before. So too is the ability for us, the public, to make informed decisions. A disintegrating media is serving to further concentrate the already vast, unhealthy, power held by a few. That power is routinely abused, its attendant responsibilities wilfully ignored, and our democracy weakened.
Your support ensures truthful, unbiased and unflinching reporting is accessible to everyone. The media landscape is riddled with vested interests: the more they win the more we all lose. On every level.
Help us speak truth to power, break the big and important stories, and to build a truth firewall against which those in public discourse can be held. If you can afford it, please subscribe, for as little as $5 a month. Together we will make a difference.
Thank you for being here.
Anthony Klan
Editor, The Klaxon