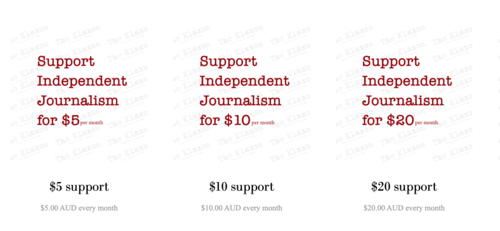 You've met Karen from Kooyong, the Guide Dogs Victoria CEO "stood-down" for spruiking for the re-election of Josh Frydenberg. The same Frydenberg who just happens to have given her company $3.5 million of your tax dollars that it didn't need. Now meet "Cate". Anthony Klan investigates…
SUBSCRIBE
EXCLUSIVE
Her name's "Cate", she's a "local mum and founder" - and she really wants you to vote for Josh Frydenberg.
"Hi, I'm Cate, and I'm passionate about my community," she says in a political advertisement spruiking the Federal Treasurer.
"I have been a Kooyong resident since 1988, as a student and now as a mother raising four daughters.
"I choose to live here because I value green spaces, parks, safe streets, good schools and a community that cares," says Cate.
Cate also chooses to live in Kooyong because that's where her $15 million mansion is.
Cate Sayers and her husband Luke, that is, who until recently was the long-time CEO of "consultancy" PwC Australia.
Last year PwC was one of the Liberal Party's biggest "donors", handing it $155,000.
Between 2012 and 2020, with Luke Sayer as CEO, PwC Australia gave the Liberal Party hundreds of thousands of dollars of "donations".
In that same period PwC received over one billion dollars of taxpayer-funded Federal Government contracts.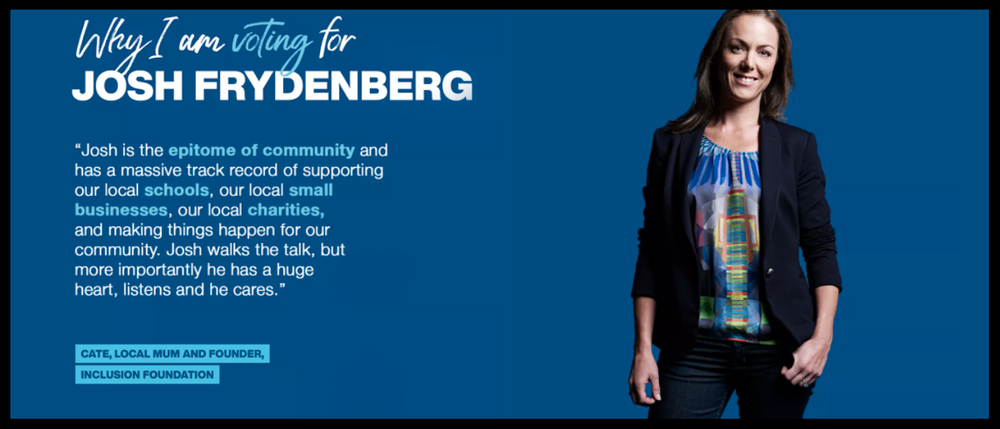 Cate Sayers in Josh Frydenberg's advertisement. Source: Josh Frydenberg.
Under the heading "Why I am voting for Josh Frydenberg", Cate - going by only her first name - gushes with praise for the Federal Treasurer.
"Josh", Cate says, "understands the dignity that comes through providing a fair go to all of us".
""Josh understands the dignity that comes through providing a fair go to all of us"."
— Cate Sayers
Cate and Luke's 19th Century mansion, "Strathner", in Hawthorne East, is "clearly one of Melbourne's most significant estates", says one luxury real estate agent.
And not least because of its "iconic tower" with "360-degree" views.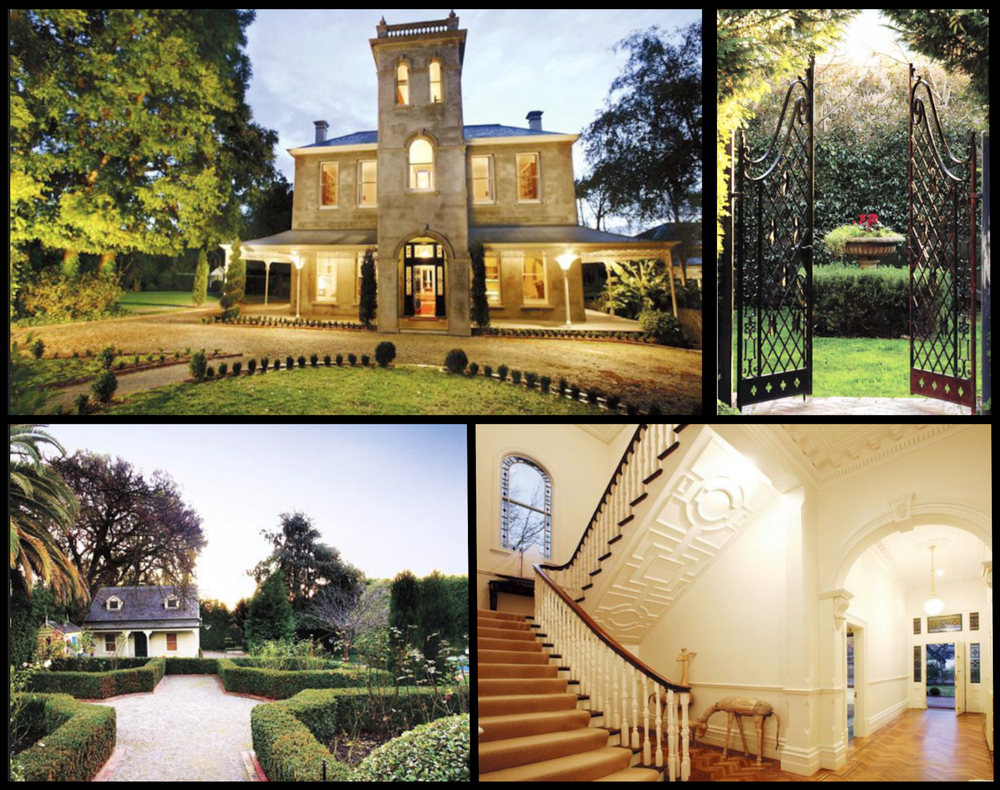 The Sayers' 19th Century Victorian mansion, "Strathner", in Hawthorne East. Source: Supplied.
"This magnificent Boom style Victorian mansion complete with iconic tower enjoys a 360-degree outlook over a wonderful landscaped allotment of some 2137sqm (23,000sqft) that includes a sublimely beautiful pool, manicured croquet lawn and enchanting secret garden," the agency says.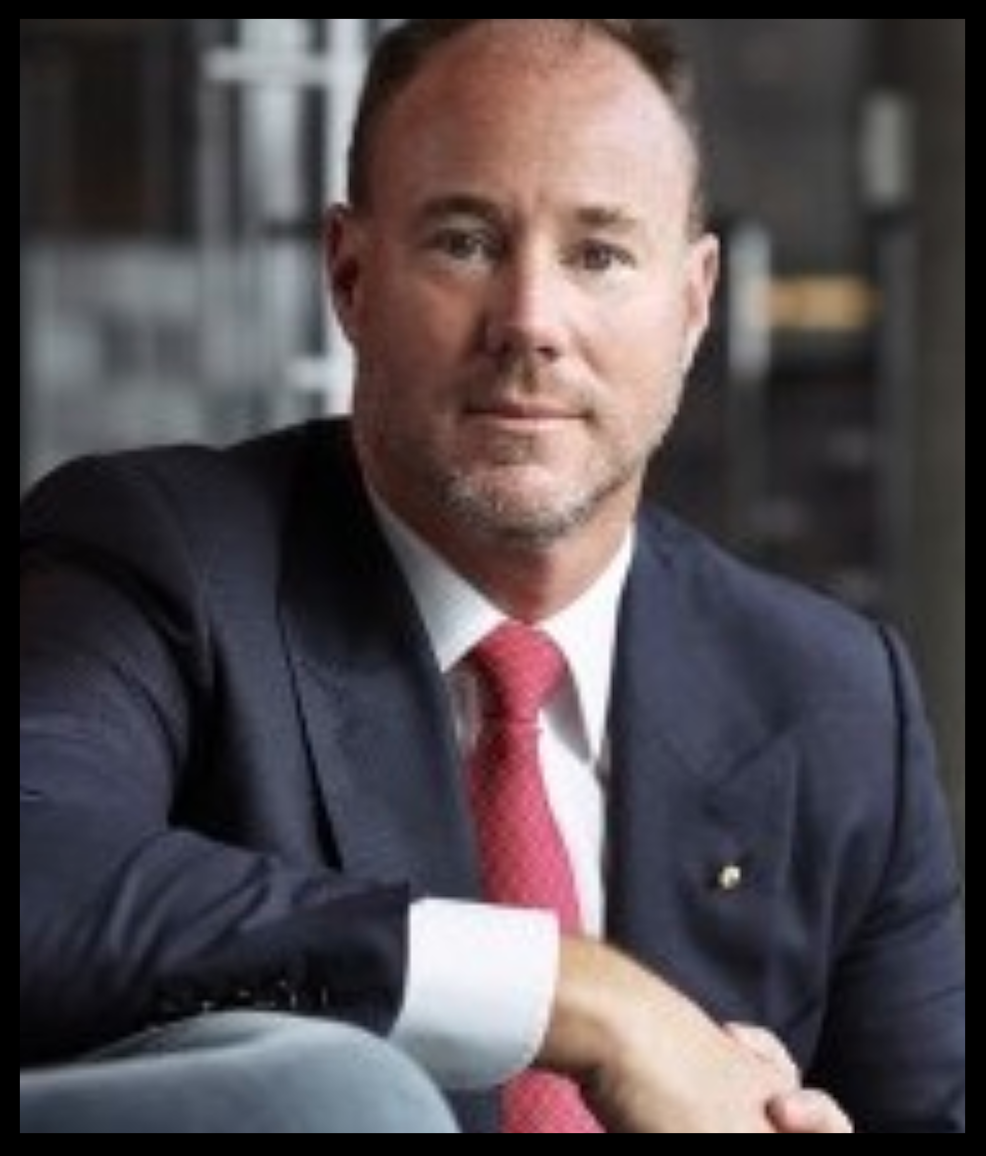 Sayers group owner and CEO Luke Sayers. Source: Supplied
"Illustrious originality is complemented by state-of-the-art renovations reflecting an approach in which only the very best is good enough," an agent writes of Strathner.
With "three striking reception rooms","unforgettable interior spaces set over two immaculate levels" including a "stunning entrance", "six big bedrooms", a "marble en suite" and "spa bathroom with exquisite stained glass ceiling", "basement cellar", "powder room", and "second family bathroom", the mansion could be costly to maintain.
Although Cate and Luke Sayer shouldn't have any trouble meeting the electricity bills or other cost of living expenses.
In 2020 Luke Sayer left PwC and set up his own "consultancy" - effectively a mini-PwC - similarly focussed on securing government contracts.
In just the past 12 months his business - Sayers Group - has been granted over $4.1m in Federal Government tenders.
The person responsible for overseeing government contracts and expenditure is Federal Treasurer Josh Frydenberg.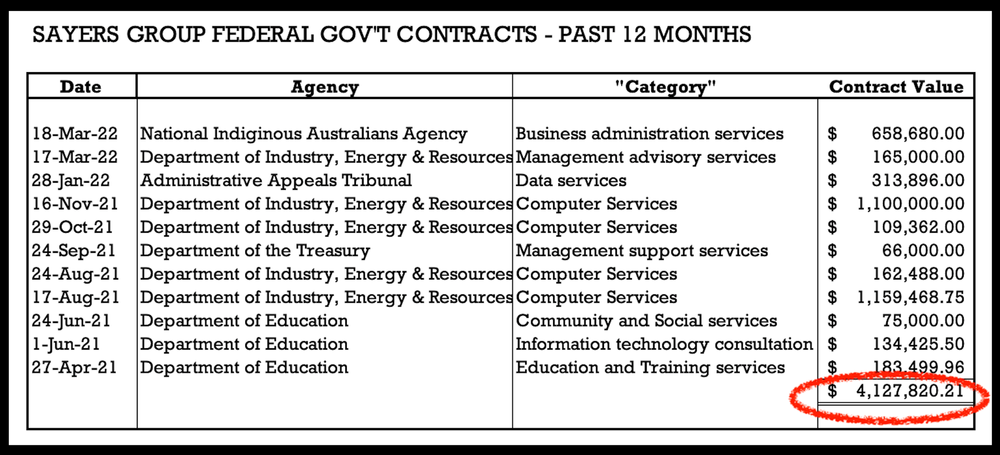 Luke Sayers' company received $4.13m in Federal contracts in the past 12 months. Source: AusTender Table:The Klaxon
Last month two new Sayers contracts totalling $823,680 were disclosed on AusTender, the Federal Government's tender registry.
They were, on March 18, a $658,680 contract with the National Indigenous Agency for "business administration services" and, the day before, a $165,000 contract for "management advisory services" with the Department of Industry, Science, Energy & Resources.
On January 28 AusTender reported Sayers Group had received a $313,896 contract for providing unspecified "data services" to the Administrative Appeals Tribunal.
""In just the past 12 months Sayers Group has been granted over $4.1m in Federal Government contracts""
Frydenberg, the federal member for Kooyong, made headlines last week after it emerged he had launched political advertisements, apparently backed by charities.
The online and physical fliers were despite it being illegal for charities (in laws heavily advocated by Frydenberg's Federal Coalition) to engage in "promoting or opposing a political party or candidate for political office".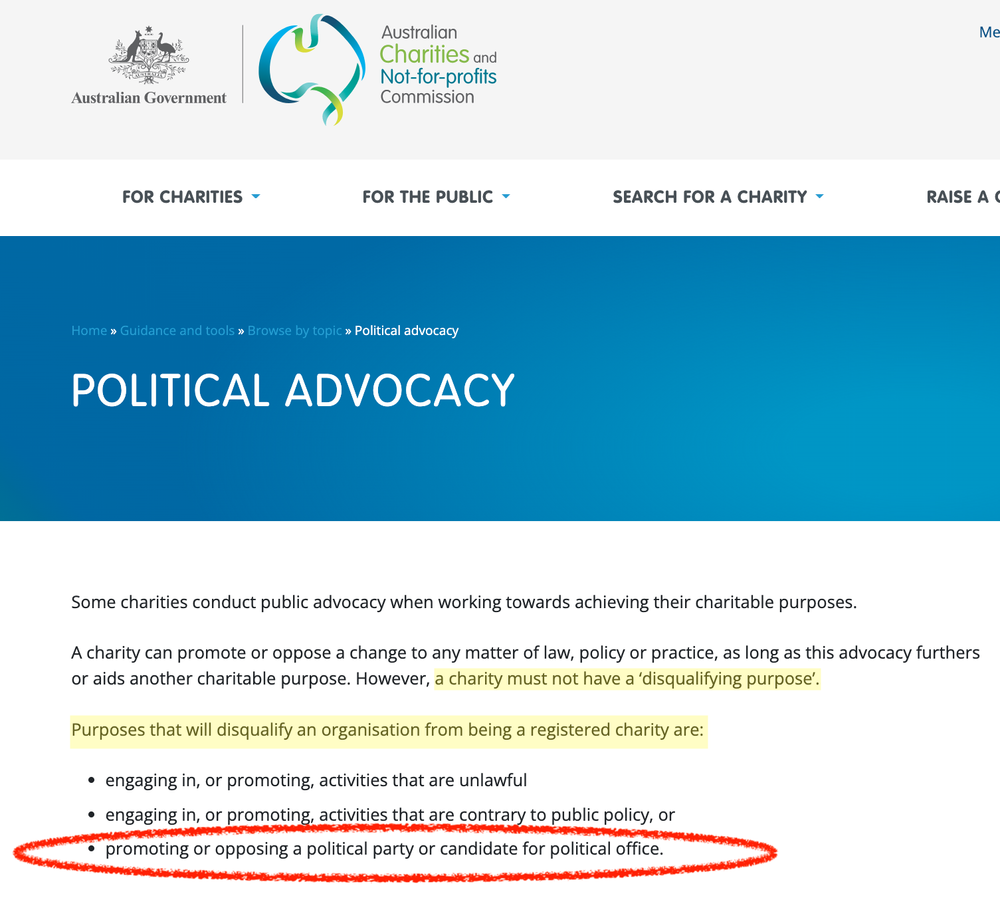 One advertisement featured "Karen" the CEO of Guide Dogs Victoria, praising Frydenberg for his "unwaivering commitment" and for his support of the charity in its "darkest days" of Covid-19 - under the heading "why I am voting for Josh Frydenberg".
(The Klaxon revealed that "support" included $3.5m in JobKeeper payments that Guide Dogs Victoria didn't need and which went to bolstering its "cash at bank" from $16.65m to $18.75m).
Guide Dogs Victoria suffered a backlash from donors and last week asked Frydenberg to cease running the Hayes advertisement.
On Tuesday the Guide Dogs Victoria board said Hayes had been "stood down" while an "independent investigation" was undertaken.
A second Frydenberg advertisement featured "Cate" - another charity CEO.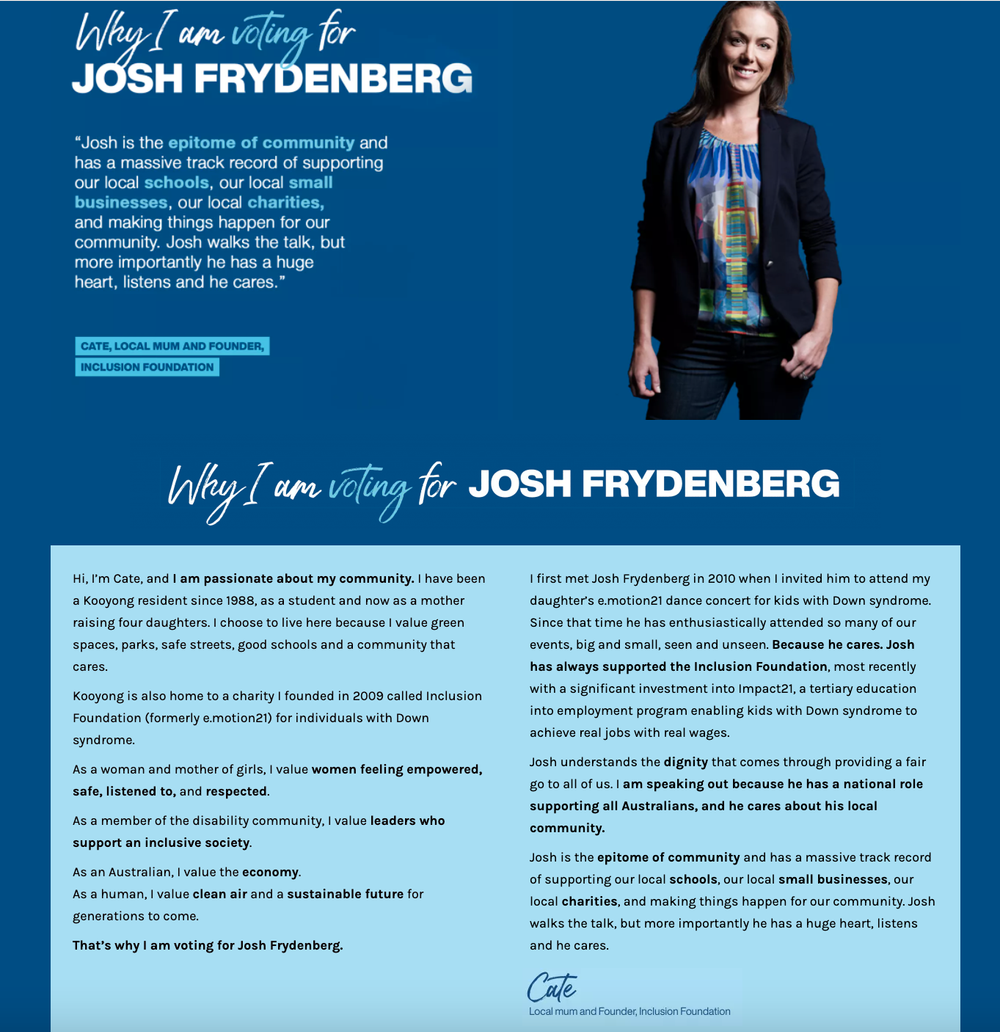 The online advertisement featuring Cate Sayers. Source: Josh Frydenberg.
Inclusion
Kooyong is also home to Cate and Luke Sayers' organisation, Inclusion Foundation, a "for-purpose-charity that champions the inclusion of people with Down syndrome", its website states.
Over the past two financial years, Inclusion Foundation received "Covid Government Stimulus" of $195,848 ($100,000 in 2020-21 and $95,848 in 2019-20).
During that same time, its "salary and wages" bill almost doubled.
In 2018-19 Inclusion Foundation's salary and wages bill was $333,770; in 2019-20 (the first year of Covid-19) it was $585,069; and in 2020-21 it was $609,678, the group's accounts show.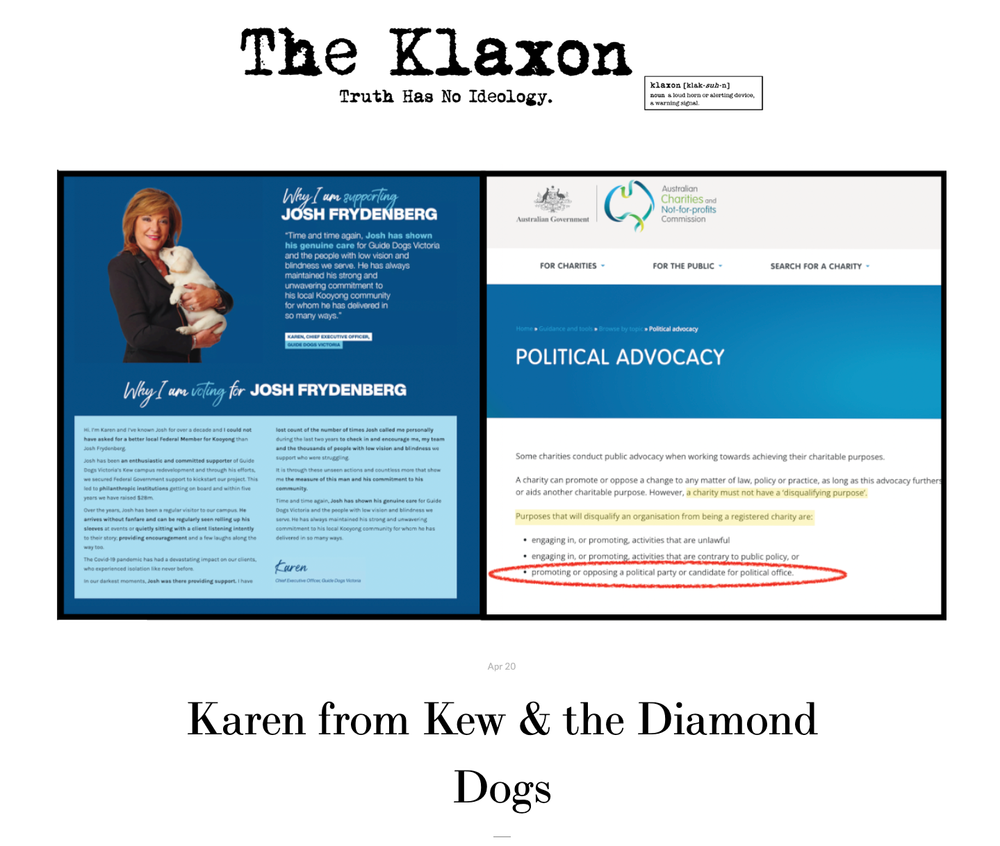 The Klaxon reports on Guide Dogs Victoria CEO Karen Hayes. Source: The Klaxon.
In the Frydenberg advertisement, "Cate" is described as "local mum and founder, Inclusion Foundation".
Cate is the CEO of Inclusion Foundation and Luke its chair, presiding over Inclusion Foundation's board.
The Sayers did not respond to multiple requests for comment from The Klaxon.
Luke Sayers has been president of Carlton Football Club since September last year.
Luke grew up in modest Melbourne suburbia, according to a 2016 profile by the Australian Financial Review.
He spent three decades, at PwC, from 1991 to 2020.
During that time PwC grew substantially, much of it on the back of governments outsourcing traditional public service roles to the private sector.
It has around 6,000 staff.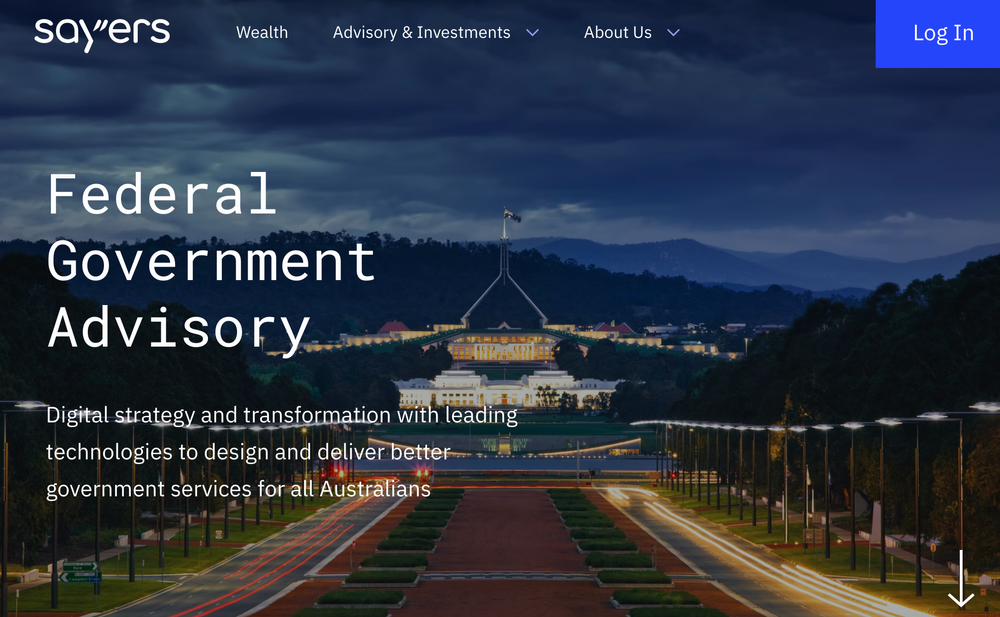 Luke Sayers' "consultancy" - $4.3m and counting in Federal Government contracts. Source: Sayers Group
At PwC, before he became CEO, Luke Sayers ran the group's "tax and legal" business.
Both Frydenberg and Victorian Premier Daniel Andrews attended Luke Sayers' 50th birthday in 2019, according to an interview last year.
"I've worked with Daniel Andrews, Josh Frydenberg and lots of other politicians from both sides," Sayers said.
"I build relationships and respect people who have a good head and good heart and are trying to do the right thing."
Sayers was asked whether he thought Australia's politicians were "unfairly maligned".
"I think unfortunately, leaders across the board, whether it's in business, religion or politics, there is a tall poppy syndrome here in Australia," Sayers replied.
"A lot of these people are really good people just trying to do the best that they can do."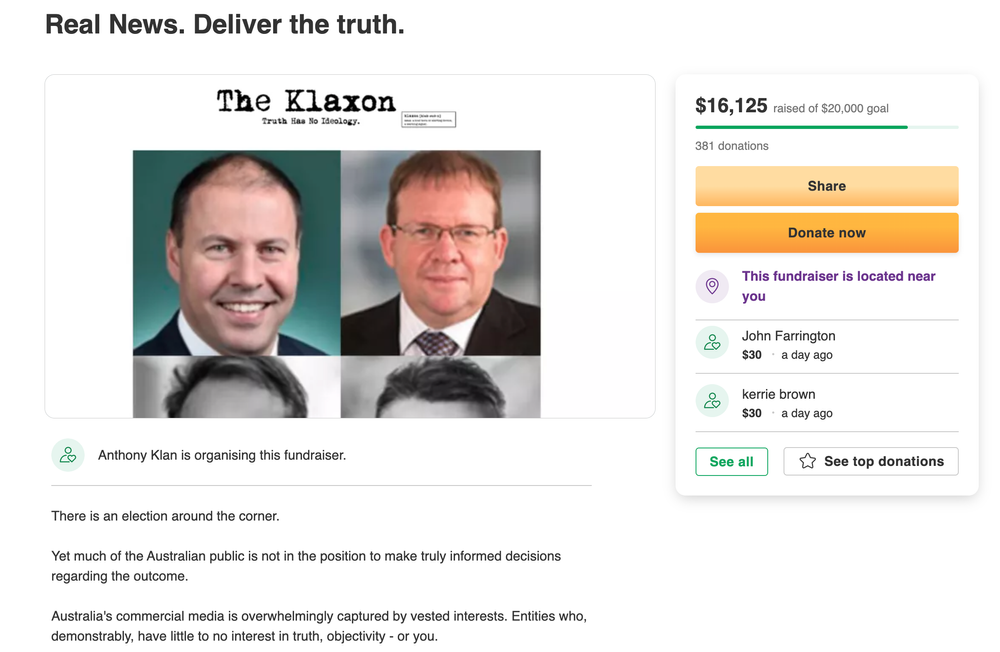 Help us inform Kooyong Voters about Frydenberg's corruption stitch-up, donate here.
Welcome
Editor, Anthony Klan
Australian journalism is under threat like never before. So too is the ability for us, the public, to make informed decisions. A disintegrating media is serving to further concentrate the already vast, unhealthy, power held by a few. That power is routinely abused, its attendant responsibilities wilfully ignored, and our democracy weakened.
Your support ensures truthful, unbiased and unflinching reporting is accessible to everyone. The media landscape is riddled with vested interests: the more they win the more we all lose. On every level.
Help us speak truth to power, break the big and important stories, and to build a truth firewall against which those in public discourse can be held. If you can afford it, please subscribe, for as little as $5 a month. Together we will make a difference.
Thank you for being here.
Anthony Klan
Editor, The Klaxon