Appreciate our quality journalism? Please donate here.
DONATE
EXCLUSIVE
The $5.5 million Dominic Perrottet illegally awarded a regional NSW gun club escaped the scrutiny of the state's chief auditor because it was not "sampled" as part of the annual government inspection.
As revealed by The Klaxon yesterday, Perrottet as NSW Treasurer awarded the grant to the Australian Clay Target Association in Wagga Wagga through the Restart NSW Fund, despite it failing to meet its legal requirements.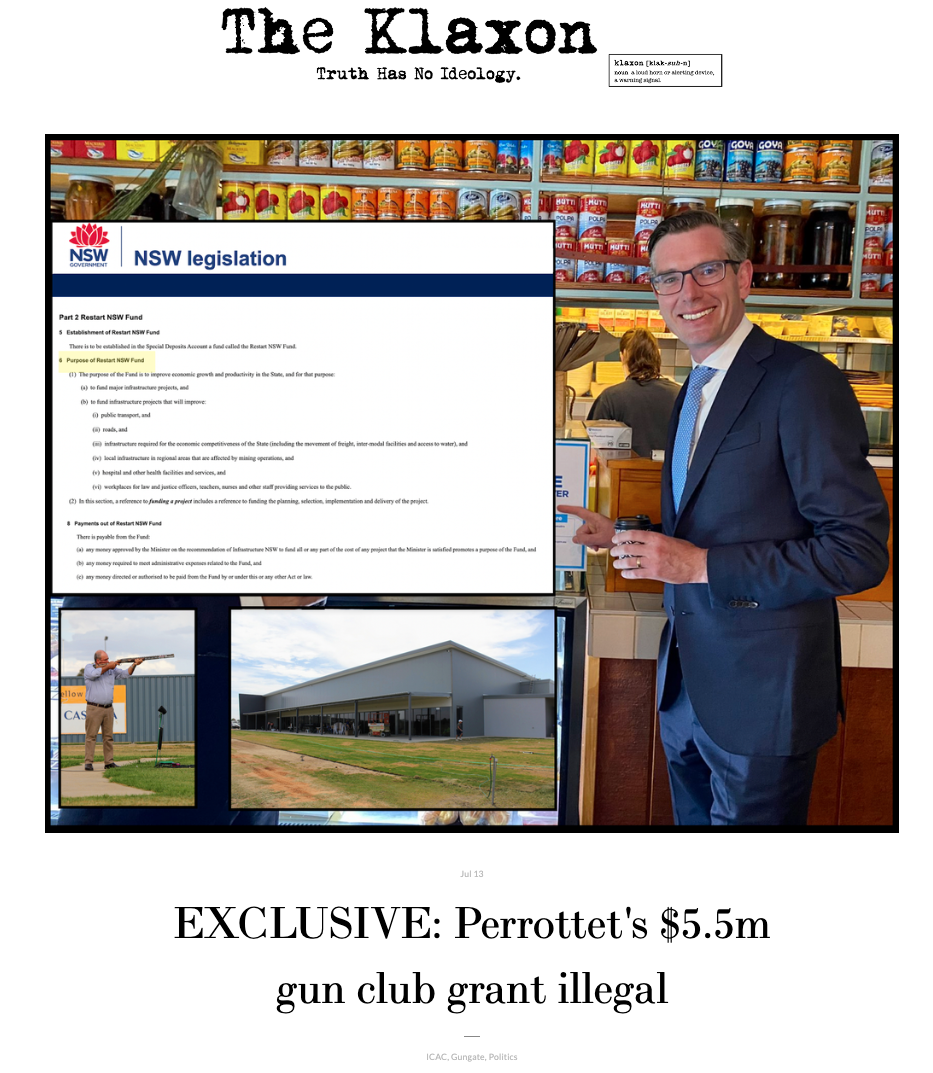 The Klaxon's expose yesterday. Source: The Klaxon
The grant, awarded by Perrottet in August 2017, is a key focus of the Independent Commission Against Corruption (ICAC) as it involved then NSW Premier Gladys Berejiklian and then MP for Wagga Wagga Daryl Maguire, who were in a secret romantic relationship at the time.
The NSW Auditor-General, which is reponsible for auditing the government's accounts, including the multi-billion Restart NSW Fund, said the $5.5m gun club grant was not one of those it had "sampled" for compliance.
"Our audit opinion is on the material accuracy of the financial statements as a whole included in the 2017-18 Annual Report, so we don't audit every transaction that occurred that year," said acting Deputy Auditor-General Scott Scanton.
"We applied a sampling approach to auditing the $3.6 billion in payments made from the fund in that year.
"As the Wagga Wagga gun club grant was not sampled as part of our audit we are not able to assist with your compliance with the Act question," Scanton told The Klaxon.
The Restart NSW Fund's 2017-18 accounts signed off by NSW Auditor-General Margaret Crawford on October 25, 2018. (Annual report p77, audit p79.)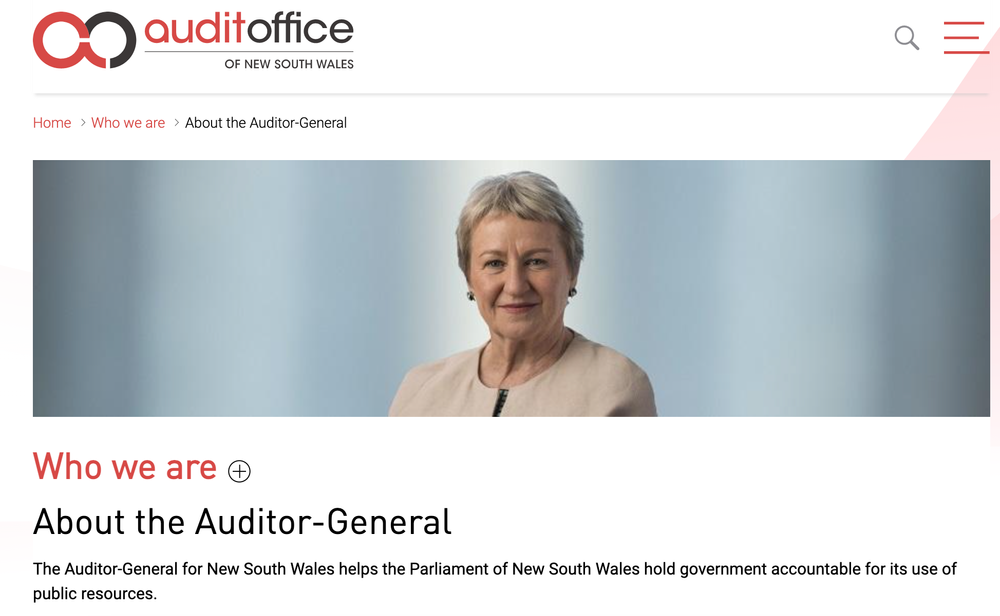 NSW Auditor-General Margaret Crawford. Source: NSW Government
Crawford was appointed NSW Attorney-General in 2016 and remains in the role.
"The Auditor-General for New South Wales helps the Parliament of New South Wales hold government accountable for its use of public resources," its website says.
The ICAC has heard the gun club grant was made in highly unusual circumstances and was pursued by Berejiklian against the advice of NSW Treasury.
(Nigel Blunden, a key advisor to then NSW Premier Mike Baird, told Baird the proposal had not been "subject to any independent review", that no feasibility study had been undertaken, and that it was "suss" because 97 per cent of its forecast benefits came from increased tourism.)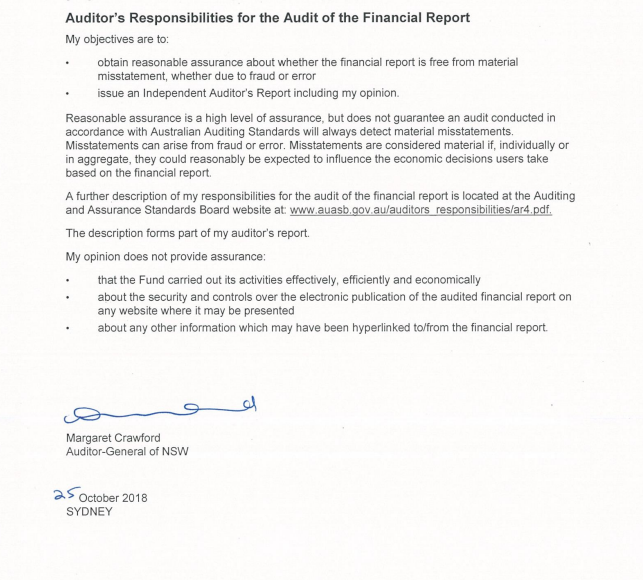 Maguire, who was in a secret relationship with Berejiklian from at least 2015 to 2020, had been pushing for the grant on the gun club's behalf for several years but had been repeatedly rejected.
In January 2017 Berejiklian replaced Mike Baird as Premier and appointed Perrottet as NSW Treasurer.
It was awarded by Perrottet on August 28, 2017.
The ICAC has heard the gun club grant was initially to be made via the NSW Office of Sport, however that department wanted "nothing to do with the grant".
Perrottet ultimately awarded the $5.5m grant under the Restart NSW Fund, which was created in 2011 from the sale of "poles and wires" electricity infrastructure.
That's despite the gun club project failing to meet legal requirements.
Restart NSW Fund is governned by the Restart NSW Fund Act 2011, which expressly stipulates the types of infrastructure projects fund money can legally be used for.
They include public transport and roads infrastructure, health and public services infrastructure, infrastructure in areas "affected by mining operations" and infrastructure "required for the economic competitiveness of the State".
The Australian Clay Targets Association's "large clubhouse/ conference facility" on the outskirts of Wagga Wagga NSW meets none of them.
Perrottet has not denied the $5.5m grant was illegal.
Purposes for which Restart NSW Fund money can be legally used. Source: Restart NSW Fund Act
As revealed yesterday, he has pointed to Infrastructure NSW for "recommending" he approve the grant.
The process for grants made under the Restart NSW Fund is they need to be endorsed by the NSW Expenditure Review Committee, which can then pass them to Infrastructure NSW to coinduct a "benefit cost ratio" assessment.
The role of Infrastructure NSW is to determine whether a proposal will deliver a net benefit to taxpayers.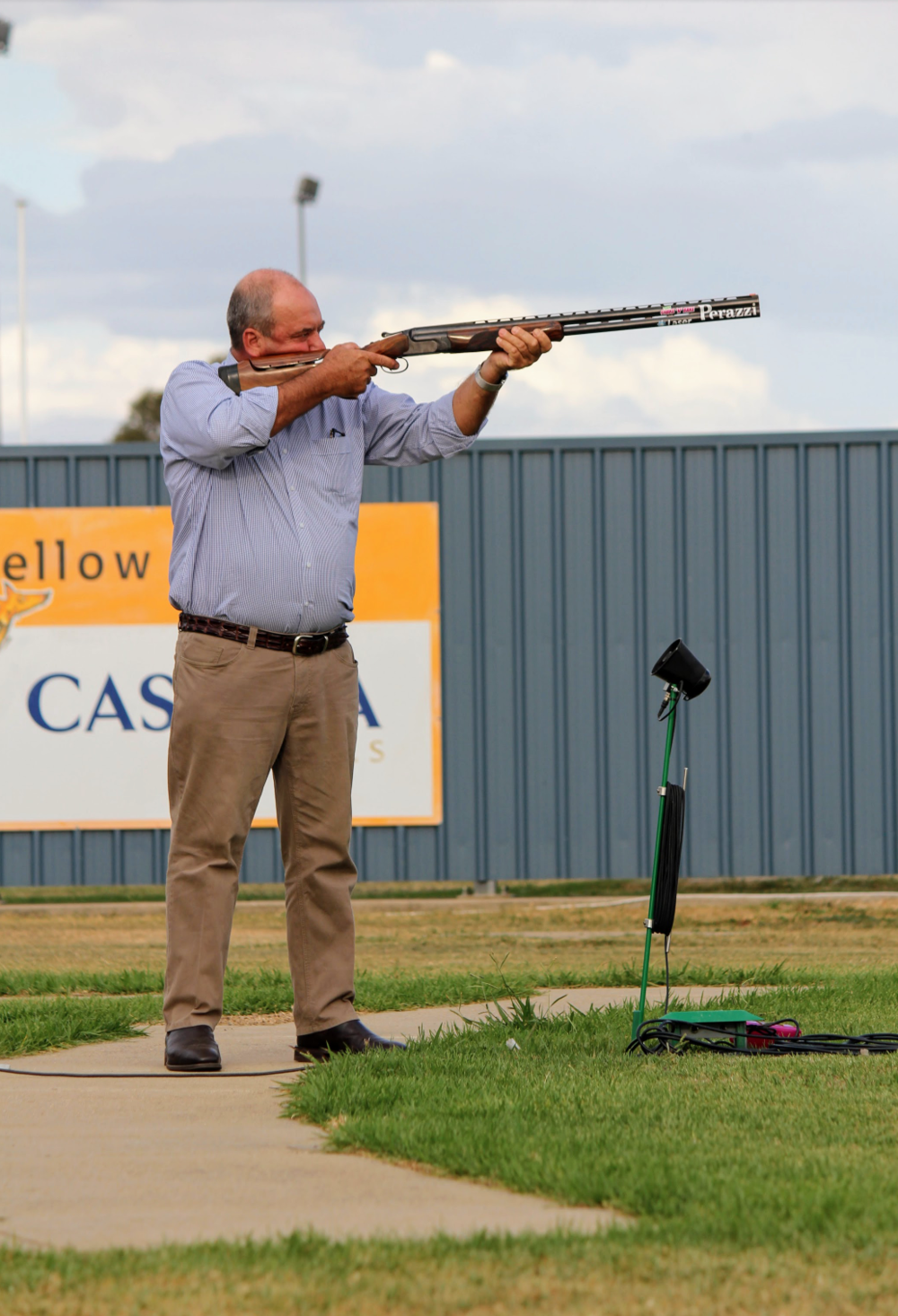 Daryl Maguire at the Wagga Wagga gun club. Source: Supplied
If projects score a 1 or more, meaning it is expected the benefits of the project will outweigh its cost, then the project can be "recommended" to the NSW Treasurer for approval.
It is then up to the NSW Treasurer to decide whether or not to approve the grant, and to ensure it meets the legal requirements of the NSW Fund Act 2011.
In December 2016 Berejiklian was NSW Treasurer and chair of the NSW Expenditure Review Comittee (ERC).
At an ERC meeting on December 16 she advanced the gun club proposal.
(The next month Berejiklian became NSW Premier and Perrottet became NSW Treasurer).
The proposal then went to Infrastrucutre NSW, which completed its assessment in mid-April 2017.
The gun club proposal failed, achiving a score of 0.88.
ICAC has heard that Berejiklian intervened.
An "updated" business case was prepared and weeks later another "cost-benefit analysis" was conducted.
This time the project passed, scoring 1.1.
On July 8, 2017, Jenny Davis of Infrastructure NSW sent an email to seven colleagues across three NSW Government departments.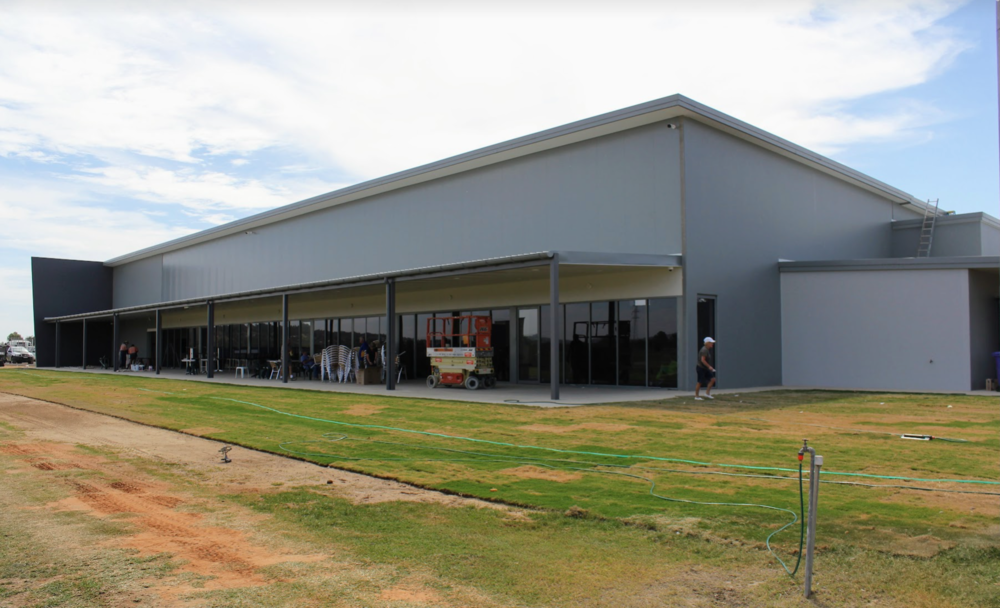 The gun club development: meets none of the legal requirements for funding under the Restart NSW Fund Act . Source: Supplied.
"The project is unusual," Davis wrote.
"The ERC (Expenditure Review Committee) minute approved it before we had ever heard of it.
NSW Government staff were concerned about the grant process - which needed to go to the "Treasurer" for approval.
"We need to ensure that the funding goes to public infrastructure, not to private assets on private land," wrote Jenny Davis of Infrastructure NSW.
"Our recommendation doesn't need to go back to ERC, but it does need the Treasurer to approve it."
""It does need the Treasurer to approve it""
— Jenny Davis, Infrastructure NSW
Weeks later, on August 28 2017, Perrottet approved the grant, despite it not only being a private asset on private land - but against the law, as set by the Restart NSW Fund Act.
NSW Opposition leader Chris Minns declined to comment, despite repeated approaches by The Klaxon.
WE HAVE A FAVOUR TO ASK: We receive zero government funding and are entirely funded by our readers. Investigations such as this take an enormous amount of time and effort. Our financial position is currently extremely tight. If you appreciated this article, and our high-quality investigative journalism, please donate here to help keep us afloat. Thank you very much for your support.
Anthony Klan,
Editor The Klaxon
More to come…
Appreciate our quality journalism? Please subscribe, from as little as $5 a month
Do you know more? anthonyklan@protonmail.com
Media syndication requests welcome:
+61403873899
Welcome
Editor, Anthony Klan
Australian journalism is under threat like never before. So too is the ability for us, the public, to make informed decisions. A disintegrating media is serving to further concentrate the already vast, unhealthy, power held by a few. That power is routinely abused, its attendant responsibilities wilfully ignored, and our democracy weakened.
Your support ensures truthful, unbiased and unflinching reporting is accessible to everyone. The media landscape is riddled with vested interests: the more they win the more we all lose. On every level.
Help us speak truth to power, break the big and important stories, and to build a truth firewall against which those in public discourse can be held. If you can afford it, please subscribe, for as little as $5 a month. Together we will make a difference.
Thank you for being here.
Anthony Klan
Editor, The Klaxon