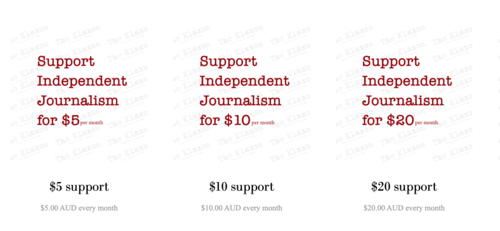 Appreciate our quality journalism? Please subscribe, from as little as $5 a month or donate here.
EXCLUSIVE
A key architect of an Anglican Church scheme that shifted tens of millions of dollars of church child rape liabilities onto the taxpayer was months later handpicked by Scott Morrison to steer a regulation overhaul that led to watered-down financial laws.
It can also be revealed that after he helped set up the child abuse liability shifting scheme, Anglicare Sydney chair Greg Hammond was appointed a director of the Anglican Church's national child rape victim "redress" program.
As revealed by The Klaxon Sunday, the Anglican Church's Sydney Diocese - its biggest and most "conservative" - undertook an internal restructure in 2016, resulting in the Diocese's almost $40m in historic child rape liabilities being passed to its taxpayer-funded aged care arm.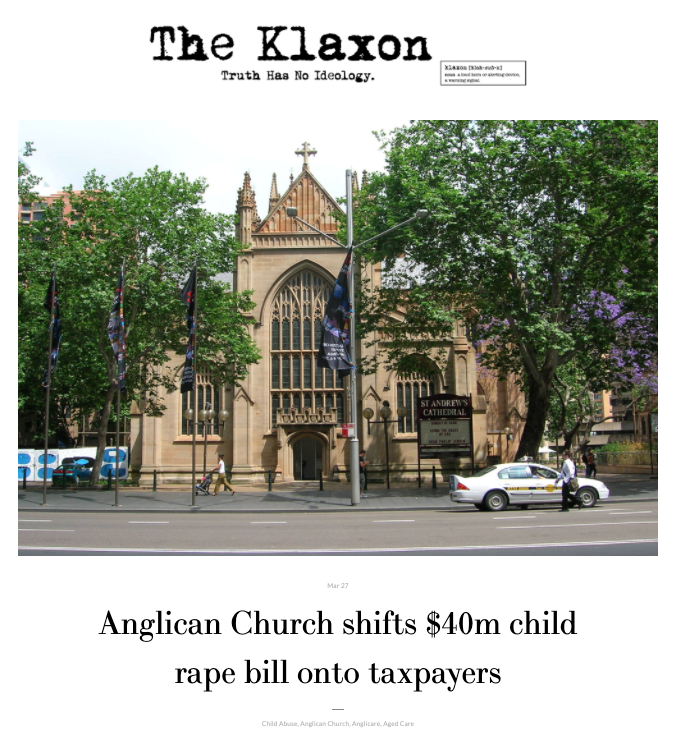 How The Klaxon broke the story Sunday. Source: The Klaxon
That restructure, completed in July 2016, was overseen by Hammond, a career corporate lawyer who has been with the Sydney Diocese in senior roles for several years before the restructure.
In July 2016 Hammond became the inaugural chair of Anglicare Sydney.
In March 2017, just months later, Scott Morrison as Federal Treasurer appointed Hammond to steer a government financial regulation overhaul regarding non-banks, "cooperatives" and mutuals.
Hammond's review called for the weakening of laws, including allowing those financial entities to more easily raise funds and face fewer government restrictions.
"Mr Hammond was to make recommendations to the Government on whether there should be regulatory or legislative changes to improve Commonwealth-registered cooperative and mutual enterprises' access to capital," the government announced.
The Federal Coalition responded to the "Hammond Review", by saying it supported all of his recommendations.
"Mr Hammond provided his independent review report to the Treasurer, The Hon Scott Morrison MP on 31 July 2017," Treasury said.
"The Turnbull Government released Mr Hammond's report on 8 November 2017, all the recommendations of which the Government supports."
The Klaxon can also reveal that Hammond is a director of "Anglican Representative (National Redress Scheme) Limited" which is the Anglican Church body representing its dioceses, schools and other subsidiaries across the nation under the Federal Government's National Redress Scheme.
That Anglican Church redress body was set up, and approved by the Federal Government, in 2018.
Prime Minister Morrison and his office did not respond to requests for comment.
Despite the seriousness of the matters engulfing Anglicare Sydney, for which he is responsible, Hammond has repeatedly refused to respond to detailed questions from The Klaxon.
A so-called "not-for-profit", Anglicare Sydney is one of the nation's biggest aged care operators and runs 23 aged care facilities in and around Sydney. It also runs 22 retirement villages.
Anglicare Sydney has been mired in scandal over the past two years and has repeatedly been found to be delivering very poor levels of care to its elderly residents.
It is the operator of Sydney's Newmarch House, where 17 residents died in 2020 following a massive Covid outbreak.
The Anglican Church's Sydney Diocese had been running aged care services for over a century but the 2016 restructure meant its child rape liabilities were transferred away from it - and its massive church assets - onto the new aged care entity "Anglicare Sydney", funded by taxpayers.
Last financial year Anglicare Sydney received $24xm from taxpayers, ostensibly to provide aged care.
Hammond "was a partner of King & Wood Mallesons for over 27 years (1987-2014)", his Anglicare Sydney bio states.
Anglicare's management - and its entire board - has also repeatedly refused to respond to The Klaxon's questions over many months.
The Anglican Sydney Diocese, its governing "Synod", and its chief - Anglican Sydney Archbishop Kanishka Raffel - have also repeatedly refused to comment.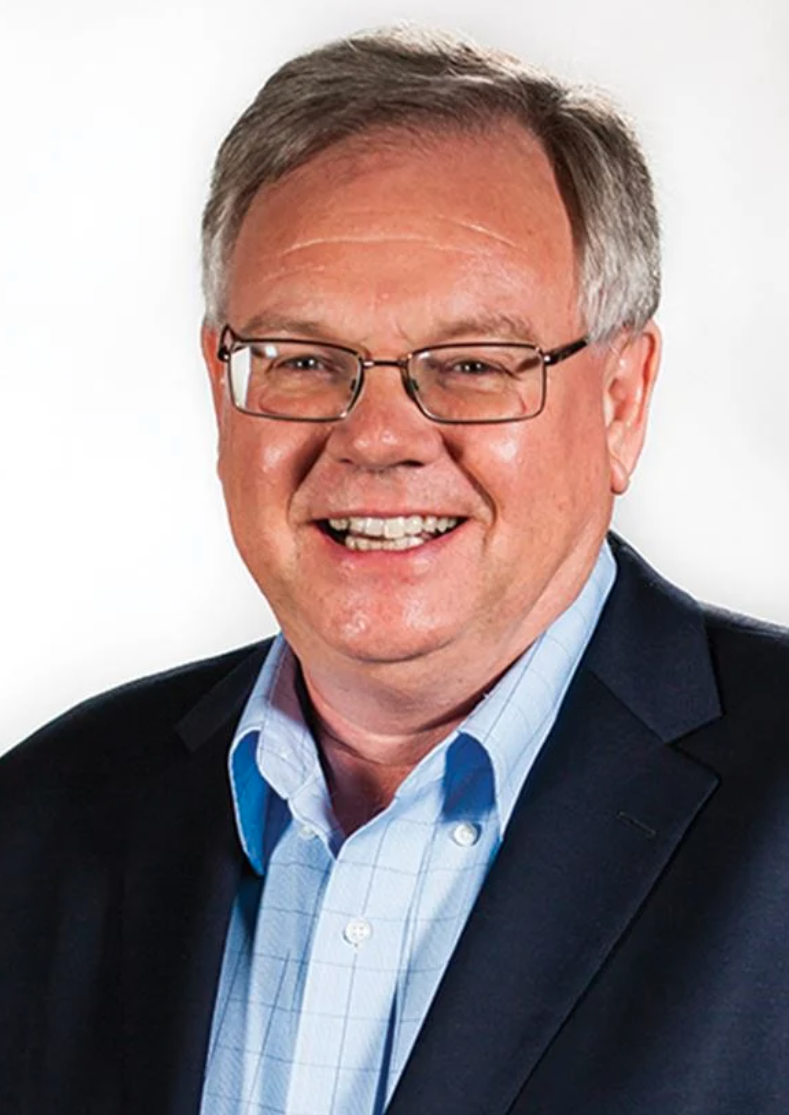 Greg Hammond, Anglicare Sydney chair. Source: Anglicare Sydney
The management and directors of Anglicare Sydney, including Hammond, claim the aged care giant - which has been secretively used to house $39.25m of church sex abuse liabilities - is delivering sub-standard care because it is in a"dire" financial position which they claim is due to an alleged lack of government funding.
"That is not the way we want to go, but if we want to stay viable - able to operate - there is very little else," Anglicare's then CEO Grant Millard told a NSW parliamentary inquiry last year.
Since 2016 the Anglican Sydney Diocese has used Anglicare Sydney to pay out $7.25m in child sex abuse liabilities.
The total "indemnity" that Anglicare Sydney provided to the Anglican Sydney Diocese was initially reported as $21.35m but in 2019-20 it inexplicably almost doubled, soaring by $19.1m in that one year.
In 2016, Hammond as chair appointed as Grant Millard as Anglicare Sydney CEO.
Millard joined the Anglican Sydney Diocese in 2011.
Until them he had worked for 13 years at an international arm of Coca-Cola, most recently spending several years as the boss of its international tax affairs.
Coca-Cola is one of history's biggest confirmed tax cheats
As previously revealed, at Coca-Cola Millard personally set up shelf companies in tax havens, including in Luxembourg and Guernsey, with those companies having no assets or employees.
In March 2021 Millard announced Anglicare Sydney would be slashing 125 jobs from across its 22 aged care
The Klaxon revealed Millard's tax haven status in September 2020.
In May 2021 Millard announced his "retirement" from the group.
Hammond and Anglicare Sydney's board have repeatedly declined to comment when asked about the precise circumstances surrounding Millard's departure.
More to come…
Welcome
Editor, Anthony Klan
Australian journalism is under threat like never before. So too is the ability for us, the public, to make informed decisions. A disintegrating media is serving to further concentrate the already vast, unhealthy, power held by a few. That power is routinely abused, its attendant responsibilities wilfully ignored, and our democracy weakened.
Your support ensures truthful, unbiased and unflinching reporting is accessible to everyone. The media landscape is riddled with vested interests: the more they win the more we all lose. On every level.
Help us speak truth to power, break the big and important stories, and to build a truth firewall against which those in public discourse can be held. If you can afford it, please subscribe, for as little as $5 a month. Together we will make a difference.
Thank you for being here.
Anthony Klan
Editor, The Klaxon