Appreciate our quality journalism? Please donate here.
DONATE
- Barilaro created the "fund" used to make $5.5m gun club grant
- Perrottet approved both the fund and the grant
- Perrottet, Barilaro & Ayres all key players in the grant
- Same three men at heart of Barilaro NY job scandal
EXCLUSIVE
The fund Dominic Perrottet used to make an illegal and fast-tracked $5.5 million grant to a regional gun club — at the request of Stuart Ayres — was set up by John Barilaro.
The $5.5m grant to the Australian Clay Target Association at Wagga Wagga NSW is at the heart of the NSW Independent Commission Against Corruption's Operation Keppel.
As previously revealed, it was NSW Premier Perrottet, as NSW Treasurer, who approved the grant, in August 2017.
It can now be revealed the "fund" that grant came from — the $300m "Regional Growth - Tourism and Environment Fund" — was created by former NSW Deputy Premier Barilaro.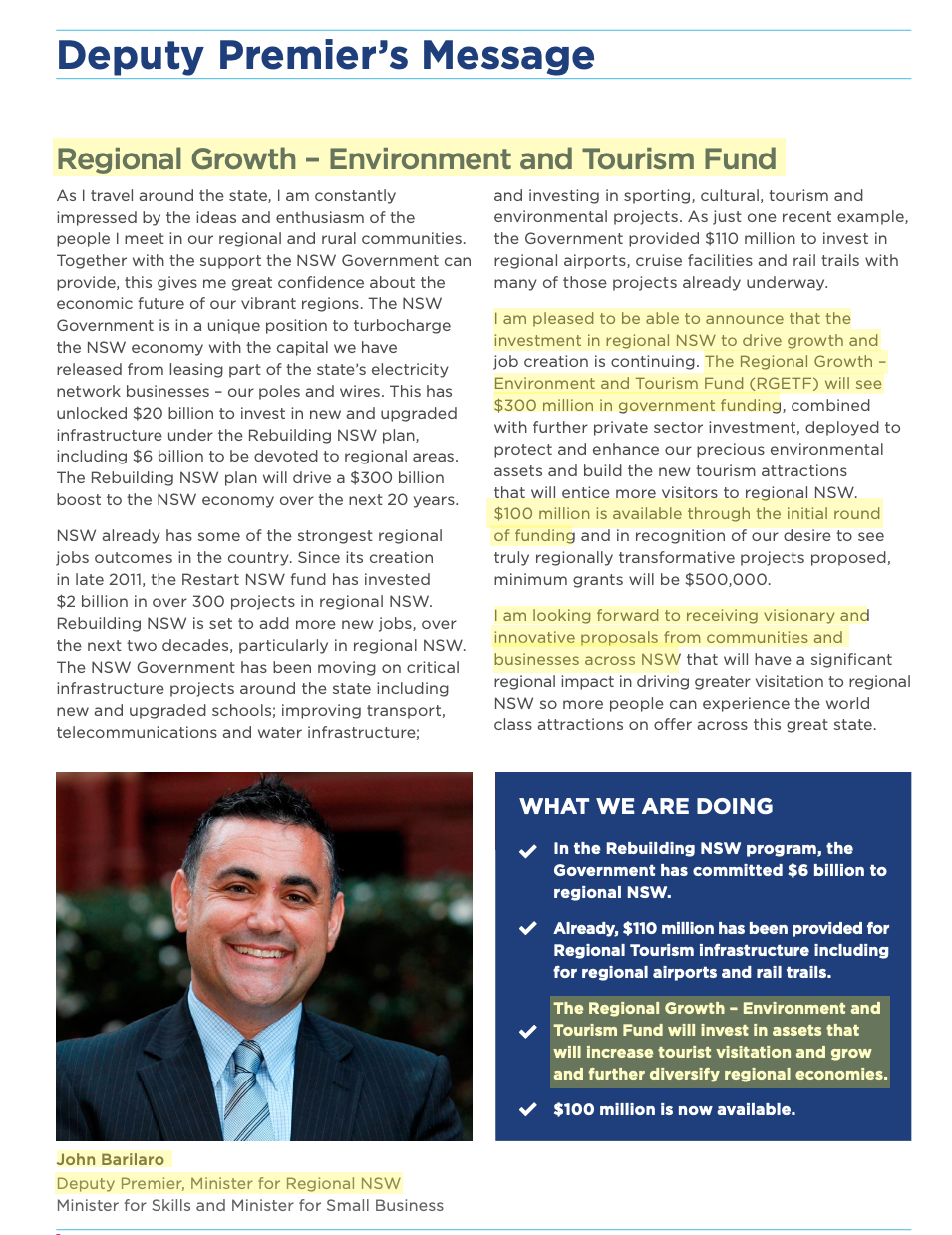 The since-deleted "expressions of interest" document for Barilaro's fund. Source: NSW Government/Wayback Machine
Previously unreported ICAC filings — and since deleted NSW Government documents — show Barilaro, as NSW Regional Minister, was the chief minister responsible for the fund, and also set its investment "criteria".
Documents show Barilaro had been pushing for the fund to be created for over a year before it was approved in February 2017 - and the $5.5m to the Wagga Wagga gun club was the first grant that went through it.
The Klaxon can now reveal that $300m fund was approved by Perrottet, on February 28 2017, in one of his first moves as NSW Treasurer.
The revelations mean that aside from Gladys Berejiklian - who resigned as NSW Premier last October over the scandal - the three MPs closest to the gun club grant were Perrottet, Barilaro and Ayres.
Aside from Gladys Berejiklian the three MPs closest to the gun club grant were Perrottet, Barilaro and Ayres.
The same three men are also at the heart of the current Barilaro New York job scandal, which on Tuesday saw Ayres "resign" as NSW Trade Minister and deputy NSW Liberal leader , although he remains in parliament.
In June it was announced Barilaro, who resigned from government in October last year, had been appointed to a plum, $500,000-plus a year NSW Government trade commissioner role in New York.
Perrottet has been under pressure since the scandal broke six weeks ago, and on Tuesday announced Ayres' resignation, saying a draft of an independent report showed the Barilaro appointment was not at "arm's length".
The report, by former public service commissioner Graeme Head, raised concerns Ayres had broken the ministerial code of conduct, with investigations ongoing.
He denies any wrongdoing.
Ayres is also central to the $5.5m gun club grant scandal because he officially sought its approval, as NSW Sports Minister, in December 2016.
Under Operation Keppel, ICAC is investigating the gun club grant and another grant involving the Riverina Conservatorium of Music, also in Wagga Wagga.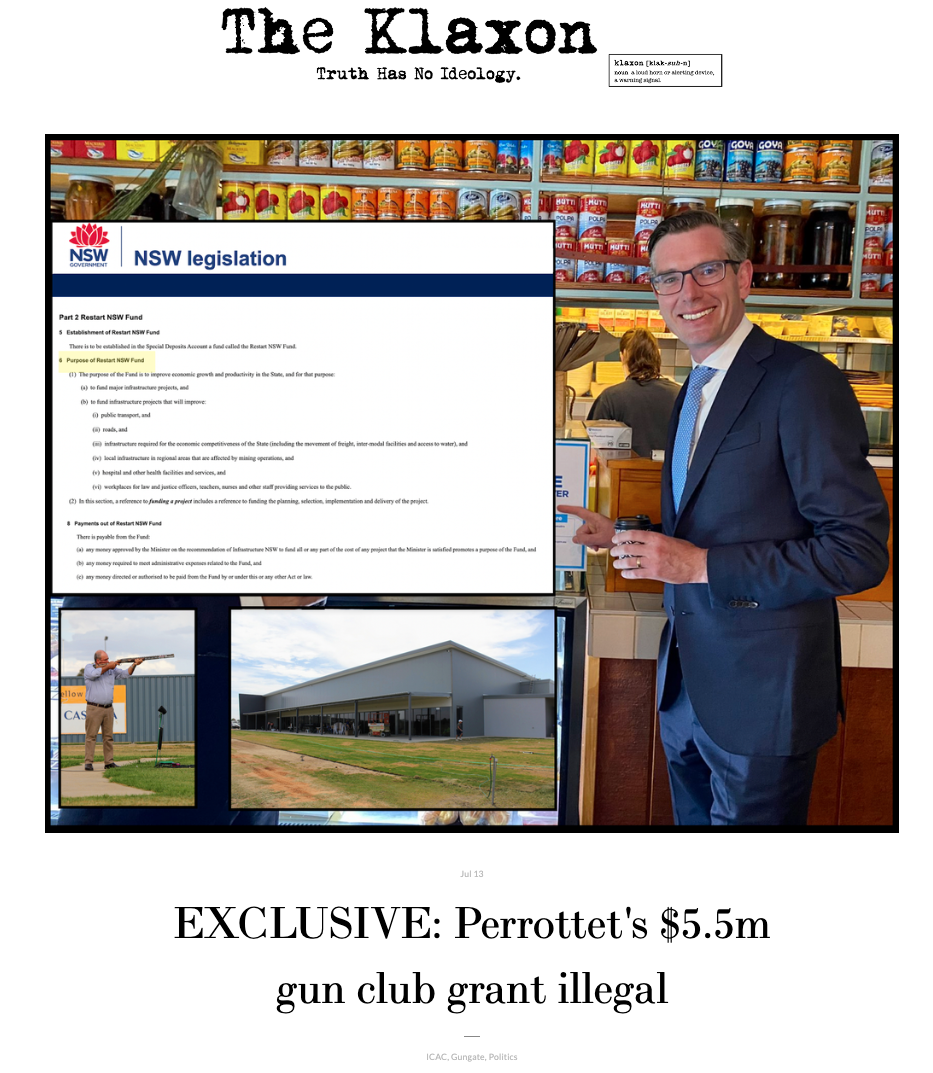 The Klaxon's expose yesterday. Source: The Klaxon
Those grants are being investigated because it has since emerged that, from at least 2015 to 2020, Maguire and Berejiklian had been in a secret romantic relationship.
Berejiklian announced her voluntary resignation as NSW Premier on October 1 last year after ICAC told her it would be publicly disclosing that she was formally under investigation in Operation Keppel.
(Only Maguire and Berejiklian have been named as officially "under investigation").
Barilaro, who had been NSW Deputy Premier and Minister for Regional NSW, announced his resignation the following business day, on Monday October 4, citing vague personal reasons.
He declined to answer when asked by media whether his resignation was linked to ICAC's Operation Keppel.
(Barilaro was forced to walk away from the New York appointment amid sustained media scrutiny.)
Now, an in-depth investigation by The Klaxon shines the light on the intimate involvement of both Perrottet and Barilaro in the gun club grant, which remains the focus of ICAC's ongoing Operation Keppel investigation.
Perrottet has not denied the $5.5m grant to the Wagga gun club - which he approved - was illegal.
Instead he has pointed to NSW Infrastructure.
As The Klaxon has previously reported, NSW Infrastructure is responsible for "recommending" grant proposals - but at all times the decision as to whether a grant is approved or denied lies with the NSW Treasurer.
The Klaxon's investigations reveal Perrottet, and his NSW Government, have vast questions to answer.
Thank you for supporting truly independent investigative Australian journalism.
Without you we don't exist.
WE HAVE A FAVOUR TO ASK: We receive zero government funding and are entirely funded by our readers. Investigations such as this take an enormous amount of time and effort. Our financial position is currently extremely tight. If you appreciated this article, and our high-quality investigative journalism, please donate here to help keep us afloat. Thank you very much for your support.
Anthony Klan,
Editor The Klaxon
Appreciate our quality journalism? Please subscribe, from as little as $5 a month
Do you know more? anthonyklan@protonmail.com
Media syndication requests welcome:
+61403873899
Welcome
Editor, Anthony Klan
Australian journalism is under threat like never before. So too is the ability for us, the public, to make informed decisions. A disintegrating media is serving to further concentrate the already vast, unhealthy, power held by a few. That power is routinely abused, its attendant responsibilities wilfully ignored, and our democracy weakened.
Your support ensures truthful, unbiased and unflinching reporting is accessible to everyone. The media landscape is riddled with vested interests: the more they win the more we all lose. On every level.
Help us speak truth to power, break the big and important stories, and to build a truth firewall against which those in public discourse can be held. If you can afford it, please subscribe, for as little as $5 a month. Together we will make a difference.
Thank you for being here.
Anthony Klan
Editor, The Klaxon